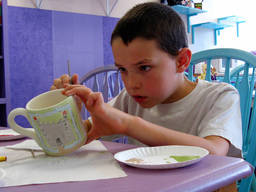 Let your kids indulge their creative side with ceramics!
Ceramics is much like pottery in that it involves modelling with clay, but it can also include the creation of other, more delicate, clay-based objects such as porcelain. It's a great activity for creatively minded kids and a fabulous way to make personalised gifts for friends and family!
A video of Ceramics For Kids
Kids creating some interesting ceramic pieces. Keep your kids busy during the holidays by letting them attend free ceramic lessons. In only ten days, they will get to learn different ceramic techniques.
information on Ceramics For Kids
Is ceramics for your kid(s)?
Do your kids love to use their hands? If they like to paint and play with play dough they might enjoy doing ceramics. Ceramics can be a form of sculpture or a way to make a huge number of useful items including a:
Does your child love to decorate? Once he or she has thought of a design, made the object and covered it with a decorative glaze you will be presented with a gift or keepsake that is truly unique. Ceramics based kids activities offer a tactile experience which can be very de-stressing for kids of all ages.
Ceramics does require a certain amount of patience, so if your child isn't happy to wait whilst the arworkt dries and is fired (which can take days), he or she might prefer different arts and crafts activities for kids that provide more instant results, such as painting. Kids can start ceramics at any age, even very young kids might enjoy playing with a lump of clay and learning to mould it into a very basic bowl or plate.
If your child is about to start ceramics, make sure he or she is dressed in old clothes as it can be very difficult to get clay out of clothing. The same applies for hair, so make sure any long hair is kept well out of the way or you may find yourself taking an impromptu trip to the hairdresser.
Get your kids to start ceramics!
If you're not sure where to find a ceramics studio in your area, why not check out our ActiveActivities Directory for ideas? There are plenty of ceramics studios throughout Australia and many of them offer classes for kids on a weekend or after school and many run school holiday programs. An alternative is to buy some supplies and have a go at home. Simple ceramics such as pots and bowls can be dried in the sun and painted but they should not be used to hold food as they will not be waterproof or properly sealed.
Do you want to have a kids party with a difference? A ceramics party can be a fun and unusual party idea!