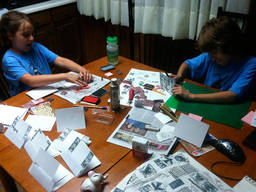 Looking for creative activities for kids? Art can inspire, motivate, and develop confidence. It also helps stimulate creativity and imagination in kids. Children are very tactile and they always want to have their hands busy. Arts and crafts are great activities where your kids can be creative and productive. Send your toddlers to art clubs for kids!
Category: Arts & Crafts, drawing, painting
Approximate age to start joining art clubs: 3-4 years old
Approximate price: $30
Gear/equipment needed and approximate price range: art materials (starting $5)
This activity comprises: drawing, painting and any other craft activities
Best period of the year: All year round
School holiday programs available: YES
A video of Art clubs for kids
Painting activities teach children about the primary colours; and the resulting colours when they are mixed.
Information on Art clubs for kids
Are art clubs for your kids?
Children develop creative expression through the arts. It is also a road to self-discovery.Art clubs for kids offer opportunities to produce art in a supportive and safe surrounding. Art clubs focus on art lessons and art projects for kids including painting and drawing lessons for kids, as well as crafts for kids. Aside from kids art classes, art clubs for kids have a wide range of kids activities like games and educational trips to art galleries.
Art clubs for kids aid children in learning about art concepts and techniques in a positive and nurturing environment. They also give the following benefits:
Self-confidence and freedom of expression
Develop social skills and make new friends in a non-competitive environment
Improve fine motor skills and communication skills
Some art clubs are fully equipped art studios, and some have a classroom setting. Kids art classes are divided into age groups, starting four years old, for them to interact and get along with kids their own age.
There are also family art clubs where families can attend art sessions together. Family art clubs can be a fun weekend family activity. Get to learn new craft ideas that you can do with your kids. It's a very fun bonding experience and very rewarding, too.
Find available art clubs for kids around Australia in our ActiveActivities Directory. Most art clubs for kids can be found in community organisations like the YMCA, in schools, and in art galleries.
Let your kids' creativity run wild. Art clubs for kids allows children to learn and work at their own pace and in their own way. Art clubs will let them explore, experiment, and create!
Articles related to your search: