3 reasons children and art mix well together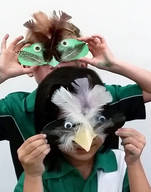 These three reasons explain to parents and carers why children and art mix well together and how best to encourage your child's creative flair.

1. Why do kids love art so much?

Children are enthusiastic, full of energy and often fearless when it comes to creating. They are not afraid to try new things or to be flexible with their ideas. Once they have a starting point for an art project, they can be encouraged to develop and build their own ideas into their masterpiece. It's a fantastic way to teach children persistence and perseverance! And at the end of the project the children are really proud of the results, which builds their self-worth and confidence in their own abilities.

Children are also naturally curious so they love to find out about art history, including some of the world's greatest artists. Through building this knowledge, they can develop more ideas and techniques and test it out in their own masterpieces!
Encourage your children to explore a variety of different media such as drawing, painting, sculpture, clay, craft, sewing, printmaking etc and expose them to a wide range of art experiences. The more they can see art by other people and children, the more they will experiment with their own ideas. One of the best things about art is that it creates an emotional and expressive outlet for children to communicate and it is lots of fun!
2. How does art making help children engage with their environment and why is it important?
Artists of all ages are observant and they have well developed problem solving skills. An artist will keenly observe the size, colour, shape and aspects of an object before they can draw or recreate it in clay. Being observant helps children to understand their environment and to be excited by the world they live in. If you have seen a young child watching a caterpillar this is an example of the focus I am talking about here.
It's a great mindfulness exercise because when their imagination is fired up, children become absorbed in the process of creating. This focus helps reduce stress and anxiety. Encouraging children to develop their own ideas is really important as it fosters their imagination.
Children rarely need encouragement to play computer games or to watch a movie but creative people dreamed up those cartoons, computer games and characters from movies. These are all out of someone else's head. Encourage children to be active learners, inventing and creating from their own ideas. By encouraging your child to create through art you are assisting them in developing independent thinking. The leaders of tomorrow are going to be independent and creative thinkers so they can solve the problems and creative challenges of the future.
3. How can you encourage your child's interest in art?
It is wonderful to support your children in their interests, whatever they may be. At home and when you are out and about be observant to things in the environment, the changing colours of leaves, clouds in the sky, the colours of flowers, the shape of buildings, the framing of a view by a window etc so that children notice the world around them.
To foster an interest in art you can take children to your local art gallery. They have different exhibitions at national and local galleries every few weeks, you can check what's showing online before you go by looking up the gallery. Visit the public artwork near where you live or in your city and be inspired.
Encourage your child in all their creative endeavours, particularly those that involve their own ideas, as well as movement and interaction with others. You can foster children's creativity by allowing them to play with art materials. Have some large plastic sheets to throw over your table and let them create! Getting messy is best done in an area with a hard floor so it is easy to clean up. Get some large sheets of paper and let them draw or paint. Make a really long piece of paper by taping lots of A4 sheets together or make or buy drawing books to use throughout the year. Have children illustrate a story they have written and make it into a book. Easy activities to do at home include drawing, painting, plasticine/clay, collage, craft or creating 3D structures. You may just have a budding artist, sculptor or architect at your place!
Art classes will further enhance your child's artistic development by inspiring them to try new media and techniques. By attending a good art class your child will develop skills, confidence and ideas through self-expression and their creative projects. To find out more about art classes and parties in Perth, please contact this article's expert contributor.
Articles related to your search: