Windsurfing For Kids In Perth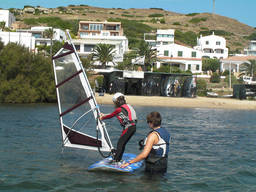 Teach your kids to be comfortable with the water!
Glide across the waves powered by nothing but the wind!
Windsurfing is a water sport where surfers ride on a board with a sail. While very common throughout Australia, windsurfing in Perth is particularly popular, perhaps due to a fantastic selection of beaches, the fabulous Swan River and an excellent number of great windsurfing spots!
A video of Windsurfing For Kids In Perth
A demonstration of a windsurfer for kids that allows them to sit down and control a smaller boat. It has some really good tips and techniques that will make your kid's windsurfing in Perth more fun and safe.
Information On For Kids Windsurfing In Perth
Is windsurfing in Perth for your kid(s)?
Are your kids looking for a new challenge? If they love water based kids activities and surfing they might really enjoy having a go at windsurfing in Perth. With so many fabulous windsurfing beaches including Scarborough, Lancelin and Cottesloe, you'll be spoilt for choice. Wind blows particularly during the winter months, however due to the location of Western Australia, especially the Perth region, and thanks to "The Doctor" winds are more constant throughout the year compared to east coast spots."The Doctor" refers to the cooling sea breeze, which occurs during the summer month in south west coastal areas of Western Australia. If "The Doctor" is blowing particularly strong it would be advisable to find protected and flat water spots which will be better for your kids to start learing. Windsurfing in Perth is therefore a great all round kids activity which can help your kids:
Improve their fitness, particularly upper body strength
A great thrill
Gain confidence in the water
Get out into the fresh air
Meet new friends
Kids can have a go at windsurfing in Perth from around 5 years old as long as they are confident in the water and have reasonable swimming ability. Windsurfing in WA has a thriving community and your child can get involved in a number of beach based activities for kids including kiteboarding and bodyboarding as well as windsurfing in Perth.
Is your child not too keen on water? Windsurfing might not be the best kids activity for them. If they love the beach but are a bit timid in the water they might prefer beach volleyball instead. Safety is always important when kids are around the water and as well as making sure kids are supervised and taught by qualified instructors, it is a good idea to ensure they have a lifejacket and other safety equipment. With the right precautions and expertise, windsurfing in Perth doesn't have to be a dangerous activity.
Get your kids to start windsurfing in Perth!
Are you looking for windsurfing lessons in Perth? Check out our ActiveActivities Directory for places to learn windsurfing in Perth. Many windsurfing shops in Perth also run beginners' windsurfing classes and they often have windsurfing gear for hire which is a great way to find out if windsurfing is going to become a regular activity for your family.
If your child wants to try windsurfing in Perth, lessons usually start at around $150 for a full day beginner's course and includes equipment rental. Many surf schools offer summer holiday windsurfing programmes during the school holidays or your child can take lessons on a weekend.
Give your child the chance to try something new and exciting with windsurfing in Perth!