Whitewater Rafting For Kids In TAS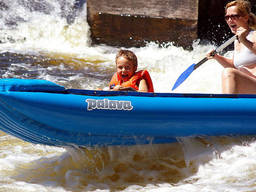 If your kids are adventure lovers, then there is no place in Australia to experience the most adrenaline-charged vacation other than Tasmania. It is called the Island of Inspiration because of its preserved natural environment, making it one of the most visited tourist spots in Australia. Fifty percent of Tasmania is comprised of reserves, national parks, and world heritage sites. The main attractions of this island state are the untamed rivers. Are your kids up for some splashing adventure? Then try whitewater rafting in TAS!
A video of Whitewater Rafting For Kids In TAS
Rafting on the rivers of Tasmania is one of the most thrilling activities. The untamed waters will definitely get your boat rocking.
Information about Whitewater Rafting In Tas For Kids
Why whitewater rafting in TAS is a great activity for your kids?
Whitewater rafting is one of the most extreme water sports in Tasmania Rivers. You will see the beautiful scenery while going against the rapids. There are four prominent rivers in Tasmania where whitewater rafting is usually held. These are the Franklin River, Mersey River, Huon River, and Picton River.
Franklin River
Franklin River is the largest river in TAS and one of the wildest rivers in the world. If your kids are skilled in whitewater rafting and want to experience a real adventure, then this majestic river is the best place to have one. The river rafting trip can take a week or so and includes very challenging rafting levels, with the rapids ranging from grade 1 to 6. On your voyage, you will encounter forests with platypuses, wallabies, and tiger cats. The minimum age allowed for whitewater rafting on the Franklin River is 10 years old.


Mersey River
For beginners, try gentle whitewater rafting on the Mersey River, Huon River, and Picton River. These three rivers have relatively milder rapids than the Franklin River. Mersey River flows 91 miles and empties into Bass Strait at Devonport, and only takes a day to traverse. It is a class ii-iii river, suitable for the whole family. The river flows along dairy, fruit, and potato farms; and the fun rapids are named as The First Drop, Berlin, Wall, and The Washing Machine.


Huon and Picton Rivers
Huon Rover is the fourth largest river in TAS. Enjoy the exciting adventure of the rapids while admiring the wonderful landscapes as you paddle along the calm stretches. It connects with the Picton River that flows through a rainforest of Huon Pines, Blackwoods, Myrtles, and huge eucalyptus trees. Whitewater rafting on the Picton River is a great way to see the Tasmanian bush.
Whitewater rafting in TAS Rivers can be a dangerous activity. Before allowing your kids to go whitewater rafting, make sure that they know how to swim. There are plenty of swimming clubs in Tasmania. Having swimming skills is the basic requirement when taking part in any water sport. Equip them with life vests and make them wear light clothing. With kids around, it is advisable to book a whitewater rafting trip with tour companies so you would be accompanied with professional guides. Tour guides will not only provide safety but also some educational facts about the places you will see while rafting.
If you think whitewater rafting is a bit too extreme for your kids, there are other activities for kids that are not as dangerous but are equally fun and exciting. They can go swimming, caving, or abseiling. Canoeing, kayaking, and sailing are also some of the main attractions in the island. The best places for kayaking are Picton, Huon, Weld Leven, and Mersey rivers. Derwent River on the other hand is ideal for sailing. Aside from the rivers, the finest attractions in TAS include the Cradle Mountain, Port Arthur Historic Site, Freycinet National Park, and the city of Hobart. Visit our ActiveActivities Directory for a full list of available tour companies that include whitewater rafting in TAS and other kids activities.
There are plenty of ways to explore Tasmania. For your thrill-seeker kids, the best way is whitewater rafting!