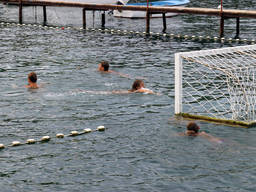 Water polo is a team water sport where the players pass the ball while being defended by the opponents. Each team scores by throwing the ball into a net that is being defended by a goalie. The game is played on a 1-meter deep swimming pool. Water polo began in England and Scotland, and is now popular in many countries including Australia. In 1982, Australian Water Polo Inc. was established as the national governing body for water polo in Australia. They are responsible for the administration of the men?s, women?s, and kids? teams. Looking for fun activities for children during the summer? Water polo for kids is a good idea!
Category: Sports, swimming, aquatic centres
Approximate age to start on water polo: 8 years old
Approximate price: $88/session, $400/year
Gear/equipment needed and approximate price range: swimwear ($25), swim cap ($10), ball ($5), mouth guard ($45)
This activity comprises of: swimming, treading, ball passing
Best period of the year: Year-round
School holiday programs available: YES
A video of Water polo for kids
Learn useful Water Polo tips and tricks from Olympian Wolf Wigo!
Information on Water polo for kids
Is water polo a great activity for your kids?
Being surrounded by water, swimming is one of the most favourite activities for kids in Australia. There are many beaches around Australia; but swimming pools are good alternatives as they are very accessible and they can be enjoyed both indoors and outdoors. Majority of kids sports in the country covers water sports, including water polo for kids. Water polo for kids is a fun sport and also a great form of workout as it can burn up to 600 calories per hour. It is ideal to enjoy during the summer break, but schools with swimming pools include water polo as their activities for kids at school.
The basic water polo rules are:
Each team is composed of six or seven players and a goal keeper.
The duration of the game lasts 32 minutes ? four periods of eight minutes.
The players scores when they successfully throw the ball into the net of the opponent.
A team wins when they have scored more goals than the other team when the game is finished.
Water polo for kids is great for both girls and boys starting age eight. It can help them develop physical skills like swimming, treading, ball passing, as well as important life skills such as team spirit, cooperation, and sportsmanship. If your kids are toddlers younger than eight, they can enjoy other water games, instead. Our ActiveActivities Directory has a comprehensive list of water sports and games for kids of all ages.
Water polo clubs offer kids summer water polo camps that provide junior teams and water polo lessons and trainings. They often also provide water polo competitions, which is a great experience for your kids. Competitions help them challenge themselves and learn how to deal with the pressure. You can find available water polo clubs and camps in our ActiveActivities Directory.
It is also a requirement that participants know how to swim. If your kids are interested in water polo but doesn't know how to swim yet, it is recommended that you enrol them to swim for kids classes.
Starting to swim at a young age can give a lot of benefits. With that skill, added with a strenuous sport like water polo, just imagine all the benefits and skills your kids can get! And it could be the open door for plenty other kids activities!