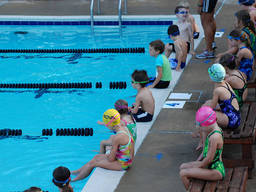 Kids health is a big concern among parents. Kids easily get bored; so parents always think of fun and exciting activities for kids to keep them active and fit. Sports for kids are the most ideal activities that will let them enjoy and be healthy at the same time. Why not try swimming? We suggest that they learn how to swim by sending them to swimming clubs for kids!
A video of Swimming Clubs for Kids
Swimming is an essential skill that your kids should learn at an early age. Swimming clubs for kids offer programs for beginners including swimming lessons that will not only teach them how to swim but also familiarise them with water safety issues.
Information on Swimming Clubs For Kids
Are swimming clubs for your kids?
Being surrounded by water, swimming is the most common sport and pastime among Australians. Most homes in Australia have a swimming pool in their backyard, or in their community recreation centres. Australia also has lots of beautiful beaches where families go swimming and surfing. Swimming in Australia is mainly based around swimming clubs. The swimming clubs provide coaching for swimmers and of all ages and abilities. Swimming lessons are also offered to those who want to learn how to swim. For the kids who want join competitions, they should belong to any of the swimming clubs in Australia.
Why do kids need to learn how to swim? It has been reported that drowning is one of the causes of accidental death of Australian children under the age of five. Swimming is an essential lifesaving skill and also a great form of exercise. It is a sport for all age groups (from babies to toddlers, kids, teens, and adults) skill, and fitness levels. Engaging in physical activities like swimming will provide your kids lasting health benefits including healthy heart and lungs, improved balance, posture, and flexibility, and confidence on the water. Most water sports require proficiency at swimming. When they know how to swim, they would also be confident in participating in more adventurous and exciting water sports such as surfing, snorkelling, and boating.
Get your kids to join swimming clubs!
Swimming clubs offer swimming classes for kids starting 6 months old. Babies are not exactly taught how to swim yet, just concepts like movement through the water, floating, and breath control. Most swimming clubs hold their lessons at public swimming pools, private pools, and beaches. Swimming clubs are ideal places to learn how to swim. Kids get to be trained by qualified professionals ? of course you would want to entrust your kids to certified coaches that really know how to teach kids all the things they should know. They also get to enjoy exercises incorporated with fun kids activities, and they get to meet new friends. Send them to swimming clubs that have round the clock adult supervision and make sure that they are familiarised with water safety precautions and wear the proper swimming outfit and protective gear. Our ActiveActivities Directory lists all the available swimming clubs for kids in Australia. See the ones nearest you.
Swimming clubs will fulfil your kids their safety needs, and provide opportunities for exercise and play. They also provide opportunities for those who want to compete achieve their best. Swimming classes help kids build strong bones and develop positive over all physical fitness. Get your kids to learn how to swim at an early age, for lifelong health and fitness, safety, and fun!
Articles related to your search: