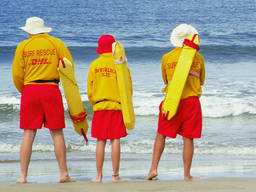 Your kids can learn valuable lifesaving skills while having fun!
Nippers club is a juniors' programme run by surf life saving clubs in Australia. Designed to teach kids the basics of lifesaving and water safety, it is also a great way for kids to make friends!
A video of Nippers Club for Kids
Nippers club championships are held all along the year and are a great way for kids to have fun and stay fit!
Information on Nippers Club for Kids
Are nippers clubs for your kid(s)?
Do your kids love beach sports? If they like being around the water and are keen for a challenge they might enjoy joining a nippers club. As well as being fun, nippers club has a number of benefits for kids:
Promotes fitness and a healthy lifestyle
Helps kids learn to swim and improve their water skills
Can teach valuable lifesaving skills and first aid
Helps your child become more aware of the risks of the ocean, particularly currents, tides and rips and teaches them the importance of swimming between the flags.
When your child joins a nippers club, they will get the chance to experience a wide range of fun beach based activities for kids including swimming, understanding the dangers and exhilarations of the surf and beach competitions. With all that fresh air and after a few beach sprints they are bound to be exhausted!
Nippers clubs run from age 5-13 and caters for kids of all different abilities and level of skill; the most important thing is that your child is keen to give it a go.Nippers are divided into two levels, under 10s (cubs) and under 14s (juniors). The main difference between nippers clubs and other water based kids activities is that nippers clubs has an emphasis on surf lifesaving training and can be a basis for kids to go on and complete qualifications to eventually become a lifeguard.
Get your kids to get to a nippers club!
Are your kids keen to get started? Check out the ActiveActivities Directory for finding a nippers club in your area . Nipper club is generally an affordable kids activity with club membership around $70 a year. In addition to membership fees, you will probably need to pay an equipment levy of around $30 a year and purchase a uniform for your child to wear when they are participating in club events. They'll need to remember to wear hats and cover up when they are resting between activities and of course don't forget plenty of sunscreen when your children are on the beach!