Kiteboarding For Kids In Melbourne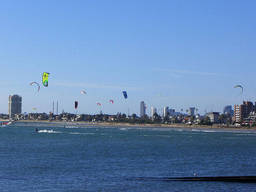 Melbourne is one of the world's kiteboarding hubs. Thrill seekers young and old can enjoy kiteboarding in Melbourne!

Kiteboarding is a sport which involves riding along the water on a board, harnessed to a kite. A fairly recent sport in Australia, kiteboarding has been around since the 1980s and is rapidly growing in popularity. If you live in the Melbourne area and you are considering letting your kids try this exciting adrenaline packed activity, here are some tips for you!
A video of Kiteboarding For Kids In Melbourne
18 year old Ewan Jaspan is one of the popular water sports athletes that kids look up to. If your kids are fans of extreme water sports, introduce them to kiteboarding at an early age. Kids as young as 8 years old can enrol in kitebaording schools in Melbourne. They can be as good as Ewan!
Information On Kiteboarding For Kids In Melbourne
Is kiteboarding in Melbourne a great activity for your kids?
Does your child love fast paced kids activities? If they enjoy getting an adrenaline rush, they will probably love kiteboarding in Melbourne. Wind is blowing particularly in winter, but you may have some few other chances to sail during summer too. Flying along the water propelled by the wind can be a great way for your kid to build strength and have fun at the same time. Kiteboarding in Melbourne is one of the most popular water sports in the area with a number of great locations including St Kilda, Brighton and Ricketts Point, which are mainly flat water spots. Kiteboarding can be much more than fabulous fun. Other benefits of kiteboarding might include:
Improved upper body strength and fitness
Increased confidence in the water
Great social sport - opportunity to make lots of friends
Can be competitive or recreational
Not sure what age to start your child kiteboarding? This extreme sport does not require upper body strength over the average (which is the opposite of what most people think) but is more about control and understanding the wind. It is suitable for kids upwards of around 6-8 years of age depending on their ability and maturity. As kiteboarding can be dangerous, it is advisable to start by looking for kiteboarding lessons in Victoria and choosing an experienced instructor rather than just hire kiteboarding gear and going out by yourself.
Think kiteboarding might be a bit too dangerous for your kids? Other similar water sports and activities for kids include surfing, bodyboarding and wakeboarding.
Get your kids to start kiteboarding in Melbourne!
Are your kids eager to try kiteboarding in Melbourne? Our ActiveActivities Directory is a great place to start if you are looking for kids' kiteboarding lessons in Melbourne. Kite beach Brighton is a well-known spot and a favourite with those learning kiteboarding in Melbourne. It is possible to hire kite equipment so if you're not sure how well the family will take to kiteboarding, it's probably better to hire than to buy until you're sure.
Not sure what equipment you will need apart from the kiteboard? A harness to hook to the kite, sunscreen is also essential and a wetsuit can help with the wind chill factor, even in warm weather, you can get cold kiteboarding. Costs vary for lessons but you can usually expect to pay $80 an hour for a private lesson.
If your kids are looking for thrills, adventure and fun, kiteboarding in Melbourne might be the way to go!