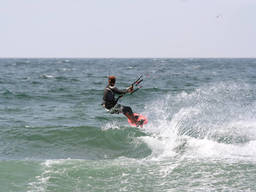 Kiteboarding is for kids of all ages!
Glide across the waves with this adrenaline filled sport!
Kiteboarding is a water sport where participants are pulled along the waves or flat water on a board attached to a kite. Also known as kite surfing, this fast growing sport is popular with adults and kids alike!
A video of Kiteboarding for Kids
Look at this kid! A bright future in international competitions… Kiteboarding is for kids and grown ups of all ages! But always make sure the conditions are 100% safe.
Information on Kiteboarding for Kids
Is kiteboarding for your kid(s)?
Do your kids love the beach? If they are confident in the water and have a sense of adventure, they might like to try kiteboarding. This kids' activity involves your child harnessing themselves to a large kite and being propelled across the water by the wind. Not for the faint-hearted, kiteboarding is a great form of exercise and a lot of fun.
Other benefits include:
Improved upper body strength and agility
Learn the basics about sailing: wind directions and conditions, tide, currents…
Great way to make friends and meet other kids
Increased confidence and self esteem
Lots of fun!
Safety is important when introducing your kids to kiteboarding. Make sure they are under adult supervision at all times and wear protective gear and a helmet. Some kiteboarding gear including boards and wetsuits can be expensive, so renting is probably your best option when your child is starting out. As kiteboarding is an extreme sport it is best suited to older kids, at least 12 years old. Kids who are timid in the water might prefer something less exciting.
Get your kids to start kiteboarding at the next school holidays!
For safety reasons it's best to start your kids off with kiteboarding lessons from a qualified instructor. It is a fairly expensive activity but it's worth a try. A typical beginner's lesson will cost around $250 an hour, however, your local kiteboarding school may have packages available for multiple lessons or for groups. Lessons usually focus on safety, set up of kites, dangerous weather conditions and how to control the kite depending on wind orientation. Flat water, like a sheltered beach or lagoon is the safest place to start. Check out our ActiveActivities Directory to find a kiteboarding school in your area or where you plan to spend your holidays.
Where can you do it? Kiteboarding is popular in coastal locations particularly:
Perth Area (Lancelin (waves), Geraldton (waves) and on the Swan River (flat water)
Sydney Area (Botany Bay (Flat water), Northern Beaches (waves), Gerroa (waves))
Melbourne Area (St Kilda (Flat water), Torquay (Waves))
No kiteboarding school in your area? Other popular water sports your child might enjoy include windsurfing, kayaking and sailing.
Is your child the competitive type? With a range of kiteboarding activities for kids and competitions, your child could even end up becoming an international kiteboarding champion like Andy Yates. Even if your child is happy to kiteboard for fun, they are bound to have a thrilling and action packed experience!