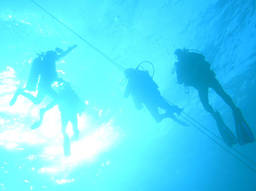 Let your kids immerse themselves in the magical underwater world!

Scuba diving is a popular sport in Australia and it is usually taught at a diving centre. The abundance of beautiful diving spots and the proximity of the Great Barrier Reef can make scuba diving a great choice for all the family!
A video of Diving Centre for Kids
Information on Diving Centre for Kids
Are diving centres for your kid(s)?
Do your kids love to be in the water?
If they are confident swimmers and enjoy adventure, they might love to get involved in diving activities for kids at a diving centre. Diving centres can introduce kids to scuba diving through courses and lessons in a safe environment before they take to the open water. There are a number of benefits that go with teaching kids to scuba dive at a diving centre, including:
Increased confidence in the water
Teaches kids valuable water safety skills
Develops an interest in marine life and ecosystems
Great exercise
A chance for kids to make new friends
Obtain an open water diving qualification
Is your child nervous around deep water? Diving might not be for them as it does require a degree of confidence in the water.
Not sure if it is safe? Lessons usually take place in a diving centre pool and at a maximum depth of 6 feet. Instructors will make sure kids are well supervised. If your child goes ocean diving they will need to know about the safety risks of currents, waves, rips and dangerous weather conditions which should all be taught as part of the course at a diving centre. In certain areas of Australia, jellyfishes are prevalent, and some species may be very dangerous. Ensure you have current information prior to diving, which the diving centre should be able to provide you with. Check all local notices and signs at the water entry point. It is prudent diving practice to wear a full wetsuit to protect your kids' skin.
Diving centres usually teach kids from age 8 and SSI and PADI scuba diving courses, which are two of the most popular teaching organizations, are open to kids over 12 years old. Make sure you pack plenty of sunscreen and water!
Get your kids' to go to a diving centre at your next holidays!
Not sure, what to do with your kids next school holidays? Why not let them try diving? Most diving centres offer 2-hour weekend and school holiday courses designed to introduce beginners to a number of scuba diving kids activities to help them become comfortable with scuba equipment and give them a taste for being underwater. Fees vary but are usually around $50 - $75 for a 2-hour programme. check out our ActiveActivities Directory which provides details on your local scuba diving schools.
Are your kids nervous about scuba diving? They could start with snorkelling. Snorkelling is a great way to introduce kids to the underwater world, particularly if you live in an area where there is coral or interesting species of fish. Whether or not your kids try full scuba diving or a quick snorkel, they should have an exciting adventure discovering the world under the water. Snorkeling and scuba diving are a great kids activity that the whole family can enjoy.