Water Sports for kids in Sydney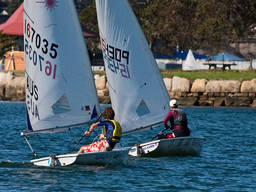 Water sports became popular in Australia in the 1820s after the official rules were established. It is especially popular in Sydney because of the many locations where families can enjoy playing water sports. Many clubs offer amenities for both kids and adults, so that everyone can join in and have fun in the sun!
Category: Sports
Approximate age to start water sports: Swimming (1), Surfing (4), Snorkelling (5), Kayaking (6), Water Skiing (12), Sailing (8), Wakeboarding (7), Scuba diving (10)
Approximate price: Swimming ($10-$20), Sailing ($500-$1500), Scuba Diving ($200)
Gear/equipment needed and approximate price range: Surfboard ($100-$1500), Wakeboard ($140-$200) Snorkel kit ($50-$200), Scuba Gear ($200/rent), Kayak ($300-$400), Paddle Board ($700-$1500)
This activity comprises of: swimming, surfing, snorkelling, kayaking, water skiing and other water sports
Best period of the year: December to February
Most appropriate region: Bondi Beach (Surfing), Water Parks (swimming for toddlers), Sydney Harbour (sailing)
School holiday programs available: YES
A video of Water Sports for kids in Sydney
Watch a 3 year old Wakeboard Wonder who rides the water like a pro!
Information on Water Sports for kids
Why is Sydney a great place for your kids to do water sports?
Looking for things to do with kids in Sydney? Coastal cities like Sydney have many famous locations where children can play water sports kids activities.
Benefits of playing water sports in Sydney include:
Many professionals and clubs to choose from
Sydney is home to many professionals and water sports clubs which can help you start engaging in various water sports. They can also lend you the equipment that you'll need for a small fee.
Wide range of available locations
A good reason to make your children try water sports for kids in Sydney is that they have plenty of available locations to choose from. Tired of surfing and swimming in the same place and staying in the same resorts? Try another location!
Diverse marine life
Australia is home to a well-preserved and diverse marine life, making snorkelling or scuba diving activities more engaging. Top snorkelling spots include the Clovelly Beach and Gordon's Bay.
Get Your Kids to Start Doing Water Sports in Sydney!
So, do you want your kid to start doing water sports? The first step is choosing which water sports activity is ideal for your kid. Some sports may be too extreme for toddlers and younger kids. Water skiing for children, for example, should only begin when the child is already at least 12 years old. Other water sports for kids in Sydney also require that children be at a certain age according to Australian law. Check the article on water sports for more information. Once you've chosen which water sport is good for your kid, you can start picking the best location for it.
Here are some ideal places for water sports for kids in Sydney and the activities which you can do in each of them:
Manly Beach
The surf lifesaving clubs in Manly Beach are not only there to ensure the safety of the swimmers in the vicinity, they also arrange various water sporting events! These events include beach sprinting and flags, surf swimming, rescue board, surf boats and surf ski. They also arrange surfing and swimming competitions for children under 6.
Bondi Beach
Bondi Beach is a famous surfing location. Are your kids already comfortable with being in the water? Enrol them in surfing classes! Surfing for kids is a great activity that improves balance and coordination in children. Surfing clubs offer lessons and also school holiday water sports programs. A 2-Day school holiday program should cost around $150.
Northern Beaches
The northern area has many beaches that are ideal locations for water activities for kids in Sydney. At the Narrabeen beach, for example, there are many facilities and clubs that can help you windsurf, kitesurf, sail and fish as well as do some paddling sports like stand up paddling, kayaking and canoeing.
Aquatic Centres
Aquatic centres in sydney are venues where your children can learn basic water sports activities like swimming, a good activity for toddlers trying to prepare for more extreme water sports. Swimming in a pool is also more ideal for kids because swimming in sea water can be a little bit harsh for their young eyes.
Sydney Harbour
Sailing in Sydney harbour is one of the most exciting ways to explore the area! Sailing clubs provide facilities so that children can learn and sail. A basic 18-hr lesson could costs $595.
For more information, you can check the ActiveActivities Directory for a list of water sports clubs and holiday programs in different locations in Sydney.
To ensure your kid's safety while playing water sports, make sure he or she is training under licensed professionals. Also remember to check the weather before heading into the water. Always supervise your children closely at all times. Don't forget to bring plenty of sunscreen to avoid sunburn.
With all the activities and locations to choose from, Sydney is surely a great place for playing water sports. Put on your goggles and swimsuits now and dive in!
Articles related to your search: