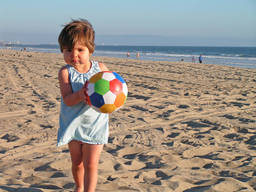 Beach sports are derivatives of original ground sports (and mainly ball sports), and are made to play in family, in a safer and "funnier" way than the original ones.
Accessible for kids of any age, and although it is most common not to keep score, and just try to have fun, some are played professionally. Clubs and international rules and events do exist for each one of these sports.
A video of Beach Sports for Kids
Kids Playing a beach soccer competition!
Information on Beach Sports for Kids in Australia
There are many different types of beach sports that are great kids' activities, including:
beach touch rugby, very close to Rugby League rules
beach volleyball, derivative from volley ball, it is usually played by two teams of two players (mixed or non mixed)
beach cricket, a great kids activity and a fun game the whole family can participate in
beach soccer, derivative from European Football, it is even closer to the Futsal than real soccer
It may be a good idea to get your kid starting a sport by trying the beach version of it, and see if he enjoys it. He will then make the choice to either keep on playing this particular one, or either stepping into the original version, as he gets older.
Summer may be the best time of the year to get your kids involved in beach sports, but try not to forget the sunscreen, the hats and some water! Even if they are usually played a softer way than the original sport, you may need some protection gear to ensure your kids do not get hurt by accident (in particular while playing beach cricket).
Many Australian beaches already have a variety of beach sports installations and offer free subscription to some regular events like beach volley games that in some places take place almost every week end of the year! It is a great way to meet new people and have a lot of fun.
Try to ask around - and especially the local surf livesaving club that may be aware of who is in charge of organizing games on the beach. Often the "regular" leagues (ie cricket, soccer and so on) also offer a beach sport option. They will also be able to give you the exact international rules.
With so many choices, it's easy to find a beach sport for your children!.
Are Beach Sports for your kids?
Beach sports are best for kids that enjoy the outdoors - and, let's face it, most do.
As outdoor activities, they are offering a large set of benefits including:
Learn water safety procedures
fitness: walk and run on the sand is softer but physically lot more demanding than running on other surfaces
Learn how to perform as a team player
Form friendships and create social bonds
Have fun
Gain confidence
Enjoy the fresh air
There is a suitable beach sport for children of all ages and fitness levels. Surf lifesaving clubs have nippers from 7 years and up (and some accept kids as young as 5). Check with your usual local club, or browse through the ActiveActivies directory to find the nearest one to you.
As for other beach sports, try your local recreation centre to find out what's in your area.
Get your kids started
Why not start off by taking the kids to the beach yourself and seeing what they might enjoy? Take along a bat and ball, or whatever gear you need and just do it. There's no need to keep score.
As mentioned above, contact your local surf lifesaving club or recreation centre to see what organised competitions are available in your area.
Beach sports don't require a lot of specific clothing ? none of those listed even require shoes - so there's no reason not to start now.
The costs to get involved in beach sports vary from minimal (just taking your kids to the beach!), up to a couple of hundred dollars to join nippers - depending on the club.
Stars and events not to be missed
The biggest beach sports in Australia are Surf Lifesaving and Beach Volley Ball.
There are also regular local competitions throughout the year ? check with your local club.
Surf lifesaving has produced several Iron Men, including Guy Leech and Grant Kenny, while Australia's female beach volleyball team of Kerri Pottharst and Natalie Cook won gold at the 2000 Sydney Olympics.
Articles related to your search: