Aquatic Centres in Sydney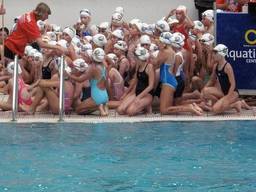 Sydney is famous for its aquatic centres, particularly the Sydney International Aquatic Centre (also known as the Sydney Olympic Park Aquatic Centre), which hosted the 2000 Olympics Games. This aquatic centre is Australia's largest swimming area, with a stadium that can accommodate 17,000 spectators. Are you ready to take your kids to an Olympic-standard venue?
Category: Education
Approximate age to start going to aquatic centres in Sydney: 2
Approximate price:Free - $20
This activity comprises of: Aquarium viewing, exploring, fish feeding, interacting with animals
Best period of the year: Spring
School holiday programs available: NO
A video of Aquatic Centres in Sydney
Sydney Olympic Park holds swimming lessons for kids of all ages
Information on aquatic centres in Sydney
Is an aquatic centres right for your kids?
Sydney Olympic Park captured the hearts of many with its impressive size and design during the 2000 Olympic Games. During that time, the Sydney Olympic Park Aquatic Centre became home to the world's Olympic swimming, diving, synchronised swimming, water polo teams.
Sydney's aquatic centres have always been a highlight for locals and tourists alike. If you are looking for a great activity for kids, you will surely find one for your family since there are tons of clubs, camps, and organisations that you and your kids can be part of. Most of these venues offer indoor sports in Sydney.
Leisure centres and swimming pools in Sydney can get busy year-round. From training to play, you will see everyone from adults to toddlers going for a swim. Most often, those who are training or taking lessons use one of Sydney's numerous indoor pools in Sydney. For those who want to feel the sun and add a little colour to their skin, one of Sydney's outdoor pools is the best option.
If you are considering kids activities or swimming classes in Sydney, aquatic centres are a great idea! Check out the ActiveActivities directory for a list of options.
Take your kids to aquatic centres in Sydney!
Each day provides a chance for you and your kids get healthy and active! Aquatic centres in Sydney are great venues for your family to swim, walk, or use gym facilities. If the weather is warm and you're looking for a great family activity, plunge into a pool with your kids. If it is a little too cold for a swim, there are plenty of heated swimming pools in Sydney too!
Here is a short list of aquatic centres in Sydney which are worth the visit:
Sydney Olympic Park Aquatic Centre
North Sydney Pool
Andrew (Boy) Charlton Pool
Leichhardt Park Aquatic Centre
Granville Swimming Centre
Ian Thorpe Aquatic Centre
Cook and Phillip Park Centre
It is always good to encourage kids to engage in sport by taking them to an aquatic centre or sports club. You may also choose to find a health club in Sydney which offers swimming classes for kids. If you do want to enrol your kids in swimming classes, keep in mind you will need to commit some time to supervising them. Perhaps, you can be the best role model as you jumpstart your way to a healthy and active lifestyle!
From aquatic centres to fitness clubs in Sydney, you can get your kids and the whole family started on an Olympic-like adventure! Get your kids started today, and they may even become contenders for an Olympic medal!
Visit the ActiveActivities directory for a list of aquatic centre attractions and activities in Sydney.