Children learn how to move with confidence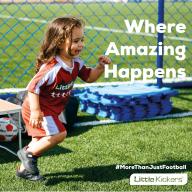 Using techniques that have been developed by industry experts and our Little Kickers coaches, the children are challenged to use various parts of their body to control the ball. Not only does this process help them learn body parts, but it also makes them aware of each specific body parts' capabilities, movement, and limitations.
We ensure that the children learn how to move with confidence, control, and coordination, emphasising the importance of doing so in ways which are safe to themselves and those around them.
A video of Children learn how to move with confidence
Throwing your 2 or 3 year old into a sporting activity and expecting them to participate fully and follow the rest of the group that have been doing the program for a few months .... it doesn't always work that way.
The following three things are extremely important to building your children's confidence in any toddler or preschooler activity, and it's important to really try for a good couple of months.
consistent weekly attendance for a couple of months
patience and parent support.
persistence, even when things don't always go to plan. Yes - tantrums, tears and running off are very normal behaviors for these young age groups
Feel free to reach out to us if you need any support, tips, or advice for your child's Little Kickers journey
Did you know that every quarter our Little Kickers children are working towards a new badge, with a presentation at the end of each quarter? We introduced our badges to highlight the key physical, cognitive and football skills they are exposed to in our program. For example our amazing children can be working towards:

Class and Badge
Little Kicks (1.5 years to 2.5 years) – Sharing
Junior Kickers (2.5 years to 3.5 years) – Imagination
Mighty Kickers (3.5 years to 5th Birthday) – Match-play
Mega Kickers (5 years & 6 years) – Kicking