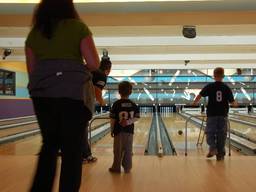 Ten pin bowling is a competitive sport where the player scores points by knocking down as many 'pins' as possible with a rolling ball. It is believed to have originated from ancient Egypt, though others claim it originated in Germany. It is a very popular sport in Australia as early as the late 19th century, and is still enjoyed by both children and adults.
Category: Sports
Approximate age to start tenpin bowling: 2-5 years old
Approximate price: $10-50
Gear/equipment needed and approximate price range: bowling shoes, bowling ball $50
This activity comprises of: Knocking down pins using a bowling ball
Best period of the year: Rainy days and winter
School holiday programs available: YES
A video of Ten pin bowling for kids
A couple of kids playing ten pin bowling
Information on ten pin bowling for kids
Why your kids would love ten pin bowling
Like any other kids activities, start them out by taking the whole family out for a fun night of bowling together at the nearest bowling alley. The kids would surely love it and get hooked; especially when they start to get their first few spares and strikes. In additon, having a party with ten pin bowling could be one of the best birthday ideas you've ever had.
Ten pin bowling has been particularly popular in Australia since it first landed on the country's shores in 1885. It grew steadily especially in major cities, but the sport exploded at the advent of automatic pin setting machines. With that, you and your kids won't have a problem finding other players to join or compete with.
Many ten pin bowling alleys in Australia offer several bowling-oriented and non-bowling activities made especially for children and toddlers, with some even having days where kids can play free of charge. Some activities include:
kids birthday parties
Christmas parties
junior bowling tournaments
soft play parties
karaoke for kids
laser tag
video games
pool tables
air hockey
foosball
and much more
Kids of all ages can play, but you should be there to guide them with some ten pin bowling game pointers like the proper way to hold the ball, "throw" the ball, and the right positioning of the body - especially when it's their first time. Of course, the safety of everyone must be ensured, so make sure you are there for them.
If, however, your kids thinks ten pin bowling is not their cup of tea and would prefer playing outdoors, it could be presented as a rainy day or winter alternative that is just as enjoyable as outdoor activities.
Get your kids to start ten pin bowling!
Some families have had their children play ten pin bowling for kids as early as 2 years old (but with the necessary adjustments), although joining bowling clubs and competing would require experience, regardless of age. Kids' leagues likely play during weekends during the school year, though there are also parent/child leagues as well.
You won't have to invest on purchasing equipment early on, as bowling shoes and balls are available inside the bowling alley as rentals. However if your kids start competing seriously you may have to eventually buy them their own pair of bowling shoes. For kids parties, some additional costs may incur.
As mentioned earlier, some bowling alleys offer days where kids can play for free, but the fees are generally affordable. Most are open every day of the week, so you may come by anytime you please as long as your kids have no classes. If you are looking for birthday party ideas, your kids might love bowling parties. Kids bowling parties in bowling alleys are mainly available through reservation.
Most alleys offer food for the players' convenience, like burgers, chips, potato crisps, and fizzy drinks. While eating, they can enjoy the entertainment facilities, like television and live bands. For more information on bowling alleys in your area, refer to the ActiveActivities directory.
Bring your kids down your nearby bowling alley now!