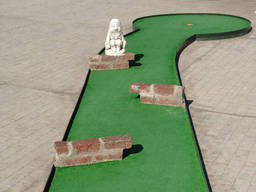 Mini or Miniature Golf is like golf but on a miniature scale, fun, easy and is usually played with a putter and golf ball on a specially designed miniature course. Courses can be themed, but usually include challenging obstacles such as:
Humps and bumps
Bridges
Tunnels
Windmills
Bunkers
And more....

The aim of mini-golf is to get your ball through the course in the lowest number of attempts (shots). Mini-golf is also known as putt putt, goofy golf and crazy golf. It started in England in the early 19th century and very quickly rose in popularity. Still popular today, mini golf is particularly enjoyed by families as its fun and simplicity appeals equally to adults and children.

Mini golf is an all year round activity for your family and can be played with a minimum of 2 players.
Information on Mini Golf for Kids in Australia
Is Mini Golf for your kid(s)?
Mini-golf is suitable for anyone old enough to hold a golf club which makes it perfect for families and children of all ages! As well as being a fun family and kids activity, there are a number of reasons why mini-golf might be great for your kids:
It can improves hand-eye co-ordination
It helps develop logical thought
It increases spatial awareness
It requires concentration
Can teach patience
Most commercial mini-golf courses are based around a particular theme. Some popular mini-golf course themes include:
Pirates
Jungle
Nautical
Beach
Tropical island
Mining
Backyard Mini Golf
Some people even build mini-golf courses in their backyards. With a bit of creativity and imagination, just on anything can be an obstacle, all you need is a golf ball and a couple of clubs.
It can also be his or her first step to real golf and may spark an interest in the sport. If nothing else, your children will have fun playing golf.
Get your kids started!
There are a number of different mini-golf courses all over Australia so wherever you are, there is probably one located nearby. Browse through the ActiveActivities directory to find a course in your area, or Google it. With no minimum skill or training required, all you need to do is find your nearest mini-golfcourse and get there. Wear flat, comfortable shoes and loose fitting clothes and if the course is outside don't forget your hat and sunscreen. Clubs and balls are available for hire at the course.
Mini-golf is generally fairly inexpensive. A family of four can expect to pay around $30 for a game, including equipment hire. Group discounts are often available for parties. Most mini-golf venues are open all year round with the exception of Christmas Day.
Popular courses can get very busy during school holidays so get there early to avoid long queues.
Stars and Events not to be missed!
Mini-golf tournaments are organised regularly at a local level throughout Australia. The US Masters (or PGA Tour), managed by the U.S. ProMiniGolf Association, is the most renowned international mini-golf tournament and attracts competitors from all over the world. The current US Masters champion is Ricard Lockner of Sweden. Unfortunately Australia is yet to make its mark on the international world of mini-golf, but maybe your child could be the first!