Bowling for kids in Sydney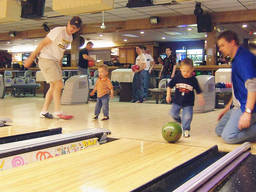 Bowling is a great interactive way to get the kids revved up after a long week in school. It is a a great weekend activity to relax and be active at the same time with friends and family. There are numerous Bowling centres in Sydney that will surely cater to your every family-affair needs. Plus, Sydney is a great place to get your kids to start and play because of the numerous bowling clubs in Sydney that will surely make your children ready to hit a strike!
Category: Sports
Approximate age to start Bowling:4
Approximate price: $14 - $40
Gear/equipment needed and approximate price range: Bowling shoes: $50 - $70, Bowling ball: $100 - $150
This activity comprises of : Bowling Leagues, Bowling Competitions
Best period of the year: Year-round
Most appropriate region: Sydney Harbour
School holiday programs available: YES
A video of Bowling for kids in Sydney
Kids showing what they've got in Bowling.
Information on Bowling in Sydney
Is Sydney a great place for your kids to go bowling?
Bowling is among the most favoured kids activities in Sydney because of its leisurely characteristics. It can be played either indoors or outdoors. In an outdoor setting, the aim is to get the ball as close to a target ball as possible. It can be played where the surfaces are grass or gravel. And the best part of playing outdoors is that you can go bare foot bowling! You can use lawn bowls instead of the traditional bowling ball used in indoor bowling. Indoor bowling on the other hand, can be played on a flat wooden or synthetic surfaces. Some examples of indoor bowling include ten pin bowling, nine pin bowling and five pin bowling. The game's mechanics basically includes the player rolling a bowling ball to knock over as many bowling pins as possible.
Children and toddlers can choose from either environment they would like to play bowling in. The critical part is learning how to start playing. If your kids are just beginning to play, don't worry! It is one of the most family-friendly activities for kids and you get to play a part in helping them make their first strike! Here's how:
Help your kid choose and find the perfect starting position. You can start with lining up their left foot with the middle dot on the approach. The right foot can go anywhere they're comfortable.
Let your kids aim for the second arrow from the right of the lane. The goal is to have the ball roll directly on this arrow on its way toward the pins
Observe the results. One way to adjust your kids subsequent shots, is to pay close attention to what the ball does to find the strike ball. You can adjust the starting position or speed and as your kids get more practice, they will get more comfortable throwing the bowling ball.
Get your kids to start bowling in Sydney!
Bowling in Sydney offers a variety of bowling alleys your kids will surely enjoy visiting. Bowling centres are the perfect venue for an enjoyable family get-together! Bowling in Sydney would typically cost you around $10-$30 and a whole lot of fun!
It's also a really great idea to make a bowling alley a kids party venue because often they also feature hip bowling lanes, karaoke rooms, pool tables, function rooms, and gourmet food! Laser tag is another idea for a great kids party venue.
Most of the time Bowling centres offer the bowling equipment you're going to need to play. Here's the list of the equipment you and your kids will be using when you get there:
Bowling Ball
Shoes
Hand Guard
Have your kids give it a try! If you discover your kids have a deeper interest in bowling, you can let them join in various Sydney bowling leagues or bowling clubs in Sydney to further their skills! Visit our ActiveActivities directory to find out more.
Articles related to your search: