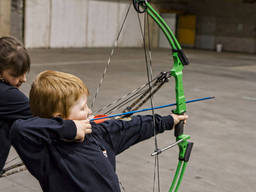 While some sports usually focus on coordination, speed and reflex, archery improves your children's concentration and awareness with safety. Archery was a method that was widely used for hunting before and during the medieval and classical periods. In modern times, it is considered a sport that requires upper body strength and impeccable concentration. In archery, you need a bow and an arrow to hit a target. But we're not talking about just any bow and arrow. Nowadays in archery, we can clearly see the presence of well-designed bows and arrows that can adjust for safety and accuracy in terms of performance in the sport. Archery in Brisbane is a great sport for your children as there are great venues that can hone your child's skill in the sport. What's good with archery is that it is either an indoor or an outdoor sport thus, widening the presence and opportunity to learn it.
Category: Sports
Approximate age to start archery: 7
Approximate price: $300
Gear/equipment needed and approximate price range: Bow and arrows - $300
This activity comprises of: Lessons and training
Best period of the year: Summer
School holiday programs available: YES
A video of Archery in Brisbane
A group of kids enjoying one of their target hitting drills in archery class.
Information on archery in brisbane
Why Archery in Brisbane is a great activity for your kids?
Is archery a safe kids activity for my children? With modern archery in Brisbane and archery in general, the main goal is to promote and instil safety in its players. There are safety rules within an indoor or outdoor venue and their designated archery coach requires new and old players to follow with respect to the sport. These are highlighted when handling the equipment, consideration of other players, and maintaining safety in the venues.
To ensure the safety of your children, choose Archery Australia approved archery classes and lessons in Brisbane, as well as outdoor archery venues in Brisbane. For more information on the sport, you can also contact Brisbane archery associations that can point you to the right direction with your child's interest in archery. But if you think that archery in Brisbane is quite risky for your children, there are other activities for kids that you can let them try. Archery is a kids activities which is a fun, safe and interesting sport. If you are wondering what benefits your children will gain from archery, here is a list for your consideration:
Archery is for everyone in Australia. From able the able bodied to the disabled, archery is a good sport that does not require much physical movement. But also consider that a bit of strength is needed with it.
It improves mental fitness. Archery involves hitting a target and needs strong focus and concentration, as well as attention skills to land your shots.
It is a relatively cheap sport if you're playing it for fun. Your investment would be your equipment and lessons to jumpstart it.
When you play archery, you also improve your patience. This is a valuable skill that can be taught for your ankle-biters that can be well exercised when they grow up.
Consider that despite its simplicity, archery is a fun and social sport. Groups from all ages can enjoy archery competitions where teamwork is applied which can be seen at archery events in Brisbane.
Archery also improves self-confidence in landing your targets. This is through the whole physical and mental process of hitting your target well and the satisfaction it brings when you get good results.
Lastly, archery teaches alertness and the importance of safety. Your child will benefit from this in the long run as archery gives your child the consciousness of not making reckless movements and decisions that can bring about accidents.
Get Your kids to try archery in Brisbane!
What does it require to play archery for my children? In order to start your child in archery, you need to find the basic archery supplies which are a bow and a set of arrows that can work for them. Selecting a bow and arrow is not difficult and you can always ask the personnel in the equipment supply to assist you in working with your child's weight and how they balance their equipment. Make sure that your child can comfortably grip and manoeuvre their way into working with their bow and arrow.
When it comes to archery classes, you can find outstanding venues offering archery courses depending on where you think your children will be comfortable. Indoor archery venues in Brisbane are mainly gyms that are built to properly conduct archery classes that can teach the basics of archery for all ages. If your children advance in the sport, you can enrol them in an outdoor archery venue in Brisbane that has different target setups arranged for distance-focused target hitting. When your child shows some gift in this sport, you can expect them to play in Queensland archery competitions in the future! For more information on events and locations of organizations and venues regarding archery in Brisbane, check our ActiveActivities directory. Have your kids try out a new sport such as archery to build their character and confidence!