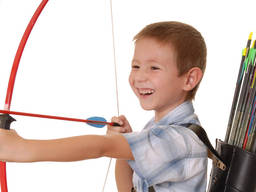 Let your kids practise their focus and concentration with this fun and unusual sport!
Archery is a sport, which dates back thousands of years. Originally a form of defence and way of catching food, it is now a competitive sport where players shoot at a circular target and aim to get the arrow as close to the centre as possible. It's a great social sport and a way for your child to develop better concentration!
A video of Archery for Kids
2 Kids (7 and 3 years old) are having fun in the backyard shooting some arrows on (and off) the target.
Information on Archery for Kids
Is archery for your kid(s)?
Could your kids benefit from improved focus and concentration? Archery is a precision sport, which might do wonders for kids' self control and strategic thinking.
Other benefits could include:
Improved upper body strength
Provides opportunities for social interaction and making new friends
Able to be done both indoors and outdoors which makes it one of the kids activities that can be done all year round
Can improve kids' confidence as they see themselves improving
Can teach kids values such as patience, which can be useful in other aspects of their lives
Archery is a great sport for just about anyone. Children as young as 6 can play and kids with disabilities often find it is a great way to compete on an equal level with their able-bodied peers. Safety forms an important part of kids' archery training and they are taught the appropriate way to handle their equipment, and supervision is provide whilst on the range.
Make sure your child wears comfortable clothing, sunscreen and a hat and don't forget to take water – it can get hot on the archery range!
Get your kids to start archery!
Not sure where to start? Luckily there are plenty of archery clubs in every state around Australia and the best way to start is to check out our ActiveActivities Directory and see if your closest one have an introductory or beginner's session for kids. An introductory lesson will usually cost around $20 and includes equipment hire. For ongoing archery activities for kids you might want to join an archery club. Membership for kids is usually around $30-$50 per year.
Once your child is proficient and knows the rules, he or she might like to compete. There are a few different types of archery including sporting archery and traditional archery and these use different bows and techniques (longbow, for example). If archery isn't quite right for your children, other target sports they might enjoy include darts or even golf!