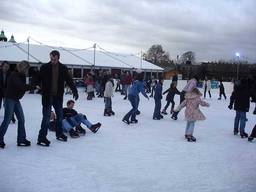 Looking for things to do for kids during the winter season? Get them to learn interesting and exciting activities for kids like ice skating. Ice skating is among the popular winter sports for kids, together with skiing and snowboarding. It is also considered as a recreational activity.
Ice skaters use specialised ice skating shoes called ice skates. With ice skating, they get to have more opportunities to enjoy the cold. What's more fun with ice skating is that the children can enjoy it even when during the warm weather. Ice skating can also be done almost anywhere ? on frozen lakes and rivers, and on manmade indoor and outdoor ice skating rinks. Ice skating can be a reason for kids to go out during winter, or a way to get rid of the heat during summer!
A video of Ice Skating for Kids
When your kids are just learning how to skate, choose the ice skating centres where they provide support bars for beginners.
Information on Ice Skating For Kids
Is ice skating for your kids?
Nothing's more satisfying than knowing that the pastimes your kids are into are not only relaxing and enjoyable, but also help them lead an active and healthy lifestyle. Studies have shown that an hour of ice skating burns more than 250 calories. Majority of ice skaters are toddlers and teens, but ice skating is one of the best ways for the whole family to spend time together. You can bond with your kids by teaching them how to skate on ice, or by playing ice skating games with them. Ice skating is an activity for kids of all ages, as long as they can already walk. Learning ice skating will give your kids a lot of benefits, including skills that they can apply to every aspect of their lives, even when they grow up. The advantages of ice skating includes:
Ice skating is a great form of exercise.
It helps improve coordination and flexibility, as well as posture and balance.
It teaches kids important values and concepts like discipline, perseverance, and confidence.
Kids can start taking ice skating lessons at the age of 2 or 3 years old. They wear a double-bladed skates for better balance. The recommended age for kids to start attending formal group lessons is 4 years old. Basic skills that they can learn in ice skating lessons include balancing on the ice skates, and then eventually, moving from one point to another.
After learning the basics of ice skating, your kids can advance to the different types of ice skating sports ? figure skating and ice hockey.
Figure skating
Figure skating can be considered as a dance sport. It is a choreographed performance done individually, by pairs, or by groups. The skaters are judged base on the techniques they've shown, their appearance, and their showmanship. Figure skating might appeal mostly to girls as they can be more graceful than boys, but anyone can learn figure skating.
Ice hockey
The principles of ice hockey are almost similar to regular hockey, only played on skating rinks. Ice hockey is a full contact sport, so protective equipment is required. The complete hockey gear includes a helmet. Shoulder pads, elbow pads, mouth guard, gloves, hockey pants, shin pads, skates, and a stick that is used to hit the rubber puck.
Get your kids to start ice skating?
Before introducing little kids to ice skating, it is best to introduce them to rolling skating first. Roller skating rinks can be found in sports centres and community centres. It is ideal because if ever the kids fall, they won't get wet or cold. Kids who know how to roller skate can easily learn to ice skate.
Ice skates can be rented from the ice skating venue, but you can also buy your kids their own ice skating shoes from sports shops. Recommended ice skating outfit includes warm clothes and mittens or gloves. Girl figure skaters wear ice skating dress instead so they can move easily. Ice skating attire can be at sports shops, and skate shops. Ice skating dress and figure skating attire can be bought at dance stores.
When skating on natural skating rinks such as frozen ponds and lakes, just let your kids skate on surfaces approved by local authorities. Following signs, rules, and regulations is also a must. Look for signs that say that the ice is thick and hard enough. The recommended are for ice skating, especially for kids, is around the edge of the lake, where the water is shallow and the ice is thicker.
Don't know where to ice skate in Australia? You can check our ActiveActivities Directory for the list of centres and recreation areas with available ice skating rinks, as well as approved natural ice skating rinks. You can also look in our ActiveActivities Directory for more kids activities ideas for children of all ages, including babies.
Ice skating is one of the most enjoyable recreational activities that the whole family can do anytime and anywhere. Get them to learn ice skating now!