Tennis for kids in Melbourne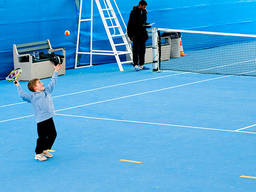 Tennis is a non-contact racquet sport that originated in England during the 19th century. It is an incredibly popular sport in Melbourne, with tennis clubs and tennis tournaments all over the city. One of the four grand slams of tennis, the Australian Open, is held in Melbourne Park during January of every year.
Category: Sports
Approximate age to start tennis: 4
Approximate price: court rental $20/hr, individual tennis lessons $75
Gear/equipment needed and approximate price range: tennis racquet ($50-$150), tennis shoes ($80), tennis balls ($25)
This activity comprises of: joining tennis competitions, practicing tennis drills
Best period of the year: Year-Round
Most appropriate region: Melbourne Park
School holiday programs available: YES
A video of Tennis for kids in Melbourne
Kids playing tennis at Melbourne Park, one of the biggest tennis venues in the world.
Information on Tennis for Kids in Melbourne
Why is Melbourne a good location for tennis for kids?
Tennis for kids in Melbourne is one of the most popular kids activities. The sport has a high potential because players in the city have an enormous chance of making it to the professional level. With all the tennis courts and tennis clubs in the city, it's easy to find a way to excel at the sport.
There is a National Academy (NA) for tennis in Melbourne. National Academies are open for athletic kids between the ages 10 and 16. There is a rigorous application process, but there are also many benefits of joining a tennis academy.
These benefits include:
Free tennis coaching and training for kids
Educational planning and support
Opportunity for professional team management
Travel subsidy when travelling on Tennis Australia International Tours Programs, and to domestic pro circuits
Junior tennis players in Melbourne are eligible to join Victoria-wide tournaments. Tennis in Victoria is a big deal, with many junior tournaments in the state, including school competitions for school-age children. There are two important annual school competitions, the Bruce Cup for kids in primary school, and the Pizzey Cup for kids in secondary school.
Junior Pennant is the most prestigious kids' tennis tournament in the Victoria, sanctioned by Tennis Victoria. Kids from Melbourne can join to represent their city. It has two age divisions: the first division is for players below 10 years old, while the second division is for players below 18 years old. Players are further subdivided by gender. The tournament is held from August to November.
Melbourne Park and Albert Reserve are the premier tennis venues in Melbourne city. On weekdays, the court hire rates at Melbourne Park is at $36-$42 per hour for the indoor courts, and $28-$36 per hour for outdoor courts, depending on the time of the day. On weekends and public holidays, indoor courts cost at $36, while outdoor courts cost $28. If these rates are too steep for you, consult your local sports centre if they have a tennis court available for hire.
Get your kids to start playing tennis in Melbourne!
Tennis activities for kids are suitable for many kinds of children. Kids from 4 years old can sign up for tennis lessons for kids in Melbourne. Toddlers from the age of 3 can start playing tennis, although it's not recommended that they join tennis clubs immediately. Tennis lessons for kids can cost at around $20-$60 per hour. Consult your local sports centre or go to our ActiveActivities directory to find a list of tennis clubs in Melbourne.
It is required that kids have their own tennis racquets so that they can get used to the touch and the feel of their own gear.
Tennis is one of the sports for kids that develop flexibility, coordination, perception, and space awareness. It requires plenty of endurance and physical fitness. Kids who prefer less strenuous sports can engage in table tennis as a substitute. Soccer for kids in Melbourne also offers an equally exciting program, in case your kids prefer team sports.
If your kids want to join the National Academy for tennis in Melbourne, you can download application forms online and also browse the criteria for acceptance. Acceptance usually relies on the ATP rankings of the applicants in the previous year, though there are many other requirements.
Let your kids join a tennis club in Melbourne today!
Articles related to your search: