Table tennis for kids in Melbourne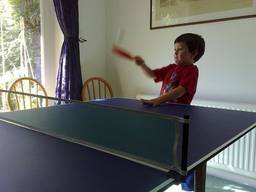 Table tennis as we know evolved from the sport of wiff-waff, which was played by the upper classes in the 1880s. The sport has come a long way, becoming an Olympic sport in 1988. What was once an after dinner parlour game has become one of the most popular sports in the world, and it continues to attract a diversity of players from many different countries. Australian table tennis coaches are world-renowned for teaching competitive table tennis techniques, and Australia is the home of many prestigious table tennis institutions, clubs, and competitions. Do you think your kids can be a part of the young blood of Australian table tennis?
Category:Sports
Approximate age to start table tennis in Melbourne: 3 years old
Approximate price: $20/hour
Gear/equipment needed and approximate price range: Table tennis deluxe set without the table can cost around $30 per set, including 3 table tennis balls, 2 table tennis paddles. The 2-piece design table tennis table with playing surface costs around $300
This activity comprises of: coaching, table tennis balls, table tennis paddles, table tennis rules
Best period of the year: Year-round
School holiday programs available:YES
A video of Table tennis for kids in Melbourne
This little table tennis player will impress your kids with his speed!
Information on table tennis for kids in Melbourne
Why is Melbourne a great place for your kids to try table tennis?
The major difference between table tennis (also known as ping pong) and tennis is that instead of playing on a tennis court, the game is played on a table with a much smaller ball and racquet. Melbourne is an important city for table tennis, and is globally recognised as the host of various table tennis tournaments and events.
The Melbourne Sports and Aquatic Centre, the home of the Melbourne Sports and Aquatic Club, is a world-renowned sporting facility. It has hosted international events including the 2006 Commonwealth Games and the 2007 World Aquatic Championships. It is an exquisite multipurpose sports hall that is located in Albert Park, just 3 kilometres away from Melbourne's CBD.
Playing table tennis in Melbourne will offer your kids a great opportunity, and may even lead to international tournaments, including the Olympics. In Victoria, the state sporting organisation is called Table Tennis Victoria, which is affiliated with Table Tennis Australia, the International Table Tennis Federation, and Oceania Table Tennis Federation. With these prestigious organisations, table tennis is a great option for parents when deciding on activities for kids.
Table tennis is a safe sport, with very few instances of injuries. Your kids will surely feel comfortable, even if they choose to play outdoor table tennis.
To make sure your child gets access to the best table tennis lessons, visit the ActiveActivities directory to see the list of registered table tennis clubs in Melbourne.
Get your kids to play table tennis in Melbourne!
Do you want your kids to spend more time on competitive sport? Enrol your kids in table tennis lessons in Melbourne, and watch them grow from casual player to competitive champion! Choosing table tennis as your kids' activity is a smart way to keep them active and healthy.
Table tennis coaching sessions can be organised either individually or as a group. We recommend group sessions, as this is the best way to increase your child's playing skills. Group sessions also increase your kids' chances of improving at a fast pace, since there is a rotation of players.
If you are considering table tennis at home as one of your kids activities, here is the list of the things you will need to complete your table tennis set:
A ping pong table
Table tennis balls
A table tennis net
Table tennis paddles
A table tennis post
A table tennis rubber sheet
When buying equipment, make sure that you ask for help from a sales representative to make sure that the items are kid-friendly. This is most important for paddles and tables, which vary in size. Remember you will need a few tennis balls, as they will be used on rotation during matches. Keep an eye out for family sets and childrens sets, which are often sold at bargain prices.
If you want your kids to bring their A game, whether it's for fun or a real challenge, encourage them to start young! Toddlers as young as three can learn the basics of table tennis. Keep in mind many coaches recommend delaying competitive play and strict rule-enforcement until later in life. You can enrol your child in a Melbourne tennis camp by using the ActiveActivities directory. Who knows? Your child might just be the long-awaited Australian Olympic Table Tennis Champion!