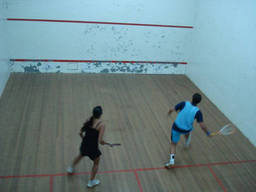 Give your kids a workout with this fast-paced sport!
Squash is a racquet sport which is played on a specially designed court. Players compete individually (singles) or in teams of two (doubles) to hit a ball against the sides of the court. Squash is a fast growing sport in Australia and your kids can get in on the action!
A video of Squash for Kids
Many people think that squash is too violent for young kids. But it is actually an amazing sport for hand eye coordination, fitness, endurance and many other benefits. And they can play all year long, as it is an inside sport!
Information on Squash for Kids
Is squash for your kid(s)?
Are you looking for kids activities for children who have energy to burn? Squash is a great way to tire them out and let them have fun at the same time.
As a competitive sport, playing squash can introduce children to ideas of sportsmanship and competition and it has plenty of other benefits including:
Fitness – squash gives kids an intense workout, improving cardiovascular fitness and strength
Hand-eye co-ordination – learning to hit a ball moving at speed can help improve kids' co-ordination
Social benefits – squash is a very social sport and gives kids a great chance to meet new people and make friends
Helps kids improve their confidence
Kids can start playing around with a squash racquet and ball from age 2 and start playing squash properly when they are around 5 years old. Squash is a fairly competitive sport so if your child is the non-competitive type he or she might prefer something a bit less aggressive like table-tennis, or even tennis.
Are your kids keen to start? It might be best to get them a child-sized racquet, which will be easier for them to grip. Eye protection is essential on the court to prevent stray balls causing any long lasting damage.
Get your kids to start squash!
What about a club?
The best way to get your kids playing squash might be to take them to your local squash club for lessons. Most clubs offer coaching for kids, either individually or in groups and costs vary depending on the programme, but start usually around 50$ an hour. Once they have reached a reasonable standard, your child will be able to participate in junior leagues and competitions and other squash-related activities for kids. Check out our ActiveActivities Directory for a >squash club near you.
To get started your kids will need a racquet, shoes and appropriate sports clothing as well as protective eyewear to keep them safe.
No squash club in your area?
What about another racquet sport like tennis or badminton? They can offer many of the same benefits as squash so why not let your child give one of them a go?
Playing squash is fast, fun and will challenge your child!