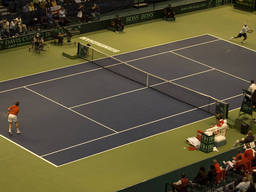 Unleash your kid's potential inner champion!
Indoor tennis is just like outdoor tennis only played indoors. Indoor tennis is played on a hard surface which can either be clay or an artificial ground cover. No matter what the weather, there's no excuse not to play!
A video of Indoor Tennis for Kids
Indoor tennis is a great way for your kids to learn tennis, as it makes it easier: no wind, no rain, no external annoying factors that could make it hard for them to start.
Information on Indoor Tennis for Kids
Is indoor tennis for your kid(s)?
Do your kids like ball games? They might love indoor tennis for kids. With indoor tennis it doesn't matter what the weather is like outside, the fun can go on without interruption! Some of the benefits of indoor tennis include:
Opportunity to socialise and make new friends
A good way to improve co-ordination and motor skills
Can be played by children with disabilities
Can be carried out all year round
A great way to burn off excess energy no matter what the weather
While children can practice hitting a ball as soon as they are old enough to hold a racquet, for indoor tennis they need to be able to hit a ball over the net, even if the first years lessons are held on a mini tennis court (smaller and net lower and closer to them). Only after 1 or 2 years, if they improved enough, they will swap for a regular size tennis court. Some children can learn to do this from age 5 upwards.
There are many tennis clubs across Australia, but even if not all have indoor courts, this kids activity can start with group lessons which are less informal, low-pressure and cheaper and progress to private lessons if they are really keen. There are even summer tennis camps which may organise a whole range of sporting activities for kids as well as indoor tennis. Children who find full-size indoor tennis courts a bit overwhelming might like to try table tennis instead.
If you book tennis lessons for your kids you'll want to check they will get enough individual attention so they don't get bored and risk injuring themselves and other children by hitting balls at random.
Get your kids to indoor tennis!
Not sure how to get started with indoor tennis? You can find local clubs and instructors giving indoor tennis lessons by searching in our ActiveActivities Directory . Kids' tennis lessons are usually low cost and may start at as little as $3 per hour for a group lesson. There are often racquets for hire and balls are generally provided. All the gear your kids can need to get started may be a pair of sneakers!
If your kids want to try something else, there are many other indoor ball sports they can have a go at too including squash, badminton and table tennis. Get your kids active and hitting a ball this weekend!