Badminton for kids in Sydney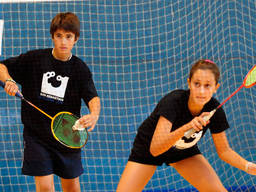 Badminton was conceptualized by British military officers during the mid-18th century. The sport was based on battledore and shuttlecock, which was also a racquet sport. The sport was later popularised at the Badminton House, a country house in England that has been the principal seat of the Dukes of Beaufort since the late 17th century. The sport was introduced to Australia in the early 1900s, and Sydney Badminton Association handles all activities related to badminton within the Sydney region. With all the fun opportunities waiting for kids in Sydney, it's easy to get your kids to learn the sport!
Category:Sports
Approximate age to start badminton:6
Approximate price:$23/hour
Gear/equipment needed and approximate price range:Badminton racquet ($16-$70), Badminton shoes ($20-$150 depending on brand), Badminton shuttlecocks ($22)
This activity comprises of: Smashing, lobbing, serving, forehand, backhand
Best period of the year: Year-Round
Most appropriate region: Sydney Olympic Park Stadium
School holiday programs available: YES
A video of Badminton for kids in Sydney
A child practices how to smash on the badminton court
Information on Badminton in Sydney
Is Sydney a great place to for your kids to play badminton?
Looking for safe activities for kids that promote health and fitness? Try badminton! This racquet sport is considered to be the fastest among them. It is also said to help players exercise motor coordination as well as to help players gain speed, power, and agility. It is played in singles, which involves one player on opposite sides of the court, or in doubles, which involves two players on opposite sides of the court.
The Sydney Badminton Association is responsible for promoting badminton in Sydney, as well as training kids to become better at the sport. The association focuses on providing a structure that will provide opportunities for players of all standards to play the badminton in Sydney.Furthermore, the association also organises competitions for kids and professionals in the region.
Other reasons to play badminton in Sydney:
Professional tournaments are held in Sydney
Badminton Australia organises tournaments in the region such as the Australian Badminton Open, which was held in the Sydney Convention and Exhibition Centre (SCEC) at Darling Harbour in 2013. The Badminton World Federation, the governing body for the sport of badminton, categorises this tournament as a Grand Prix Gold tournament.
Take your kids to one of these events and inspire them to play like the pros! Who knows? Maybe one day you'll see them play in the All England Open Badminton Championships, the premier worldwide badminton tournament!
Major junior tournaments are held in the region The SBA Schools Competition, the SBA Junior Autumn Open Mixed Team Event, and the SBA Competition for HSC Under 23 Years are held in the Sydney Olympic Park, while the NSW Schools Challenge is held in the International French School in Sydney. If your kids want to join a competition, you can visit the Sydney Badminton Association website to submit an online entry.
Join clubs affiliated with the Sydney Badminton AssociationThere are many NSW badminton clubs affiliated with the Sydney Badminton Association. Joining one can help provide your kids with ample badminton training. With good badminton coaches and instructors as well as other kids who are serious with the sport, your kids will definitely learn how to hone their skills in these clubs. They can master difficult techniques like deception, which includes the use of deceptive shots to fool opponents and scoring points.
Get your kids to start playing badminton in Sydney!
If you're wondering where to play badminton in Sydney you're in luck! There are many places where there are public badminton courts available for rent. However, there are courts that require memberships for online booking, so be sure to research in advance when choosing which court to play in.
In the Sydney Olympic Park Sports Hall, bookings can be made 30 days in advance, with a $23 per hour rate. To learn more about where you can play badminton in Sydney, visit our ActiveActivities directory for more information. Remember, its better to play in a court than in your backyard, so that you can properly apply the badminton rules when playing, making your kids training more competitive.
The most ideal age for kids to start playing the sport is six years old. By that age, your children will be tall enough to let the shuttlecock go above the net and also to handle the professional size racquet without difficulty. Toddlers can practice with junior badminton racquets, which are designed for youngsters eager to learn the game. If you're looking for other attractive kids activities that offer the same benefits as badminton, you can let your kids try squash or tennis.
Before playing badminton, its crucial to choose the right equipment. Like previously mentioned, choose a racquet that's of good quality. Its better to buy one from a store rather than online so that your kids can handle the racquet before purchasing, to see if they like the weight and grip of it. The same goes for badminton shoes.
Some badminton stores offer racquet stringing in case the strings of your racquet start getting loose. With that said, its often better to buy good quality badminton racquets because they require less restringing. In addition, good quality shuttlecocks dont easily lose their shuttlecock feathers, allowing your kids to play with ease for a longer period of time. Some people prefer using plastic shuttles for practice, but its better to ask your kids coach when it comes to which shuttlecock to buy.
Start gearing up your kids to get on a badminton court in Sydney today!