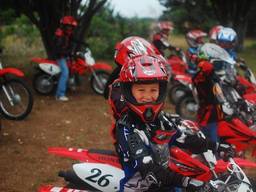 Kids are naturally bursting with energy that keeps them restless and playful all the time. There are times, though, that they tend to get bored of their usual activities for kids in school and at home, so it helps to introduce them to different activities for kids that they won't get easily tired of like motocross for kids. You've read that right. Motocross, from originally being an extreme sports activity for adults that started in United Kingdom, is now accessible to kids in Australia. Give your child the exhilarating experience of an off-road motocross ride today and watch them drive like the big guys!
Category: Sports
Approximate age to start motocross for kids: 7
Gear/equipment needed and approximate price range: helmets, goggles, gloves, boots, motocross jerseys, t-shirts and pants, body pads (knee, elbow and wrist) and chest protectors
This activity comprises of : motorcycle racing over a rough terrain with steep hills, sharp curves and high-rise slopes
Best period of the year: all year round
Most appropriate region: whole Australia
School holiday programs available: YES
A video of Motocross for kids
Young kids rippin' on dirt bikes
Information on motocross for Kids
What can your child get from motocross for kids?
Motocross for kids or mini motocross is a motorcycle race over a rough terrain with steep hills, sharp curves and high-rise slopes. It is one of the most popular extreme kids activities that give hours of unequalled fun, play and excitement. Given children's propensity to try something new and unusual, there is no doubt that they will love to participate in a motocross for kids event. As parents, though, you need to be aware that motocross for kids can be dangerous as it is fun. Here are some important reminders to help you kick-start your kids' motocross adventure with confidence, lots of fun and peace of mind.
Find the right motocross for kids club
Now that motocross is becoming a popular hobby among children and toddlers in Australia, more and more motocross clubs are established to cater to the growing demand. They help motocross starters become good, as well as developing experienced young motocross riders into future professional motocross champions. Once you find the right club to join, you and your kids will find it easier to learn the techniques and procedures, from the basics to the advance ones.
Equip your kids with the appropriate gear
Motocross for kids require special clothing and riding gears to protect youngsters from any potential physical injuries. There are items that are mandatorily required, such as helmets, goggles, gloves, boots, motocross jerseys, t-shirts and pants, body pads (knee, elbow and wrist) and chest protectors. High quality motocross clothing and gears are a must, so that your kids will be able to drive their bikes safely and in style.
Get tips from the pro
Bike shops teeming with junior motocross aficionados are a must-visit place when you want to learn biking essentials from the experts. That way, you and your kids will be able to choose among different sturdy and manageable dirtbikes, such as 125cc and 50cc motor bikes, as well as get tried-and-tested tips and tricks from other experienced bikers.
As parents, it important to be prepared before your kids hit the race tracks. As your kids start learning the how-to's of mini motocross, you must be involved in making sure that they are learning the things that they need to learn, so that they are fully-equipped inside and out before they compete with other young motocross riders.
Visit our ActiveActivities directory for available school of motocross for kids, events and competitions. We also have a list of motocross and dirt bike shops where you can purchase motocross gears for kids.
Motocross for kids, like its adult counterpart, involves getting hurt, whether your kids are performing tricks or not. But as long as your kids are knowledgeable and equipped with the right riding gears, you can watch them race through the slopes, curves and peaks of the race tracks with peace of mind. Just be enthusiastic and confident, so your kids will have perseverance and the drive to win whatever obstacle or pain they may encounter on their rough, bumpy journey to the finish line!