10 Fun Facts About Go-Karting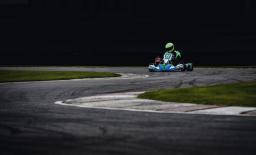 Discover 10 exciting facts about Go-Karting, a thrilling family activity in Australia. Learn how it boosts skills, safety measures, and more.
Thinking of something thrilling and fun for your kids in Australia? Look no further than Go Karting Centres and Go Karting Clubs! Here are some incredible things about this high-speed activity that both you and your children will love.
1. Go-Karting Is Safe and Exciting
At Go-Karting Centres, safety is a top priority. These venues offer a controlled environment where kids can experience the thrill of speed in a secure setting.
2. It's an All-Ages Activity
Whether your child is a beginner or an experienced driver, Go-Karting Clubs have options for every skill level, making it a fantastic family activity.
3. Boosts Confidence and Skills
Go-Karting is not just about fun; it also helps in developing driving skills and boosts confidence in kids, teaching them the importance of focus and control on the track.
4. Incredible Birthday Party Option
Many Go-Karting Centres offer birthday packages, making it a unique and unforgettable way to celebrate your child's special day.
5. Go-Karting Teaches Sportsmanship
Through racing and competing, children learn about fair play, camaraderie, and the importance of both winning and losing graciously.
6. Family Bonding Opportunity
It's not just for the kids! Go-Karting is an activity that the whole family can enjoy together, creating lasting memories.
7. Various Track Options
From outdoor tracks to indoor circuits, Go-Karting Clubs provide diverse options for different experiences.
8. Introduction to Motorsports
For children interested in motorsports, Go-Karting serves as an ideal entry point to learn the basics of racing.
9. Go-Karting as a Learning Experience
It's not just about speed - kids learn about vehicle handling, control, and even the science behind racing.
10. Professional Guidance
Many Go Karting centres offer coaching and training by experienced professionals. Consider checking out to give your child the best learning experience.
Get ready to rev up the engines and create unforgettable memories with your kids at Go-Karting Centres and Clubs in Australia!