Self defence clubs for kids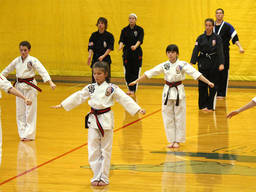 Self-defence is a crucial skill that everyone can benefit from learning. There are many styles of self-defence: some of them can be derived from martial arts, while others can be derived from reality-based situations.

The origin of self-defence goes back to the origins of humanity itself because of the many threats that people constantly experienced from other tribes or from wildlife. At present, many self-defence clubs have been established to help people defend themselves better in various situations. Wouldn't you want to ensure your kids' safety?
Category: Sports, martial arts
Approximate age to start (name of activity): 5
Approximate price: $10-12 per class
Gear/equipment needed and approximate price range: Soft-soled shoes ($100-$500), Martial arts uniform ($200-$500)
This activity comprises of: self-defence classes, self-defence tutorials
Best period of the year: Year-round
School holiday programs available: YES
A video of Self defence clubs for kids
Craig Soucy teaching a child how to escape and evade being grabbed, a basic self-defence skill.
Information on Self-Defence Clubs for kids
Are Self-Defence Clubs For Your Kid(s)?
Do you want your children to know how to handle themselves in tough situations? Afraid that your kids will have trouble with bullies in school? or maybe just learn about self-control? Let them join self-defence clubs!
Self-defence clubs take pride in teaching their students to defend physically and mentally, and keep control of themselves while facing stressful situations. They combine different styles of martial arts in order to come up with a set of non-aggressive moves that take advantage of an attacker's momentum. That way, smaller children can handle threats from older children or even adults.
Other benefits include:
Learn techniques to avoid physical confrontations
Besides teaching students to defend themselves physically, self-defence clubs for kids typically teach their students other ways of self-protection, like how to handle aggressive behaviour from others verbally.
Improve physique
Self-defence involves a lot of martial arts training which help improve focus, balance, coordination and overall fitness.
Improve discipline
Self-Defence classes for kids normally teach them to be disciplined by teaching them when to use their skills and when not to.
What kinds of self-defence can your kids learn? Besides self-defence oriented styles of martial arts like jujitsu and self-defence sports like muay thai and boxing, special instructors can also teach them Reality-Based Personal Protection training. It specializes in teaching students how to defend themselves in realistic situations like crime survival and terrorism survival.Children's self-defence can start as early as 5 years old. Toddlers are normally not advised to engage in the activity.
Get Your Kids to Start Joining Self-Defence Clubs!
Where can you learn? Self-Defence kids activities can be taught in a martial arts school and they normally require martial arts supply.
Martial arts gear for self-defence activities for kids:
Loose fitting clothing
Soft-soled shoes
Martial arts uniform
There are many clubs that offer self-defence for kids in Sydney which will normally cost around $10-12 per class. To find out more about Self-defence clubs for kids in Australia, check our ActiveActivities directory .Most clubs offer lessons all year round. Decide which kind of self-defence class you want for your child and check online for details. Some kinds of self-defence classes may require additional equipment like gloves for muay thai or boxing.
Give your kids the protection they need by enrolling them in self-defence clubs today!
Articles related to your search: