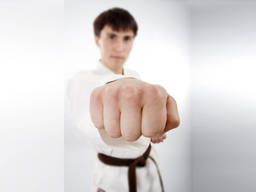 Get your kids to learn how to defend themselves.
Teach your kids Self Defence!

It is important for everyone to have self defence skills for protection against harm. Kids need to be taught at least basic self defence as they are more vulnerable than adults. In case there isn't anyone around to help them, they can defend themselves. Knowing that your kids are safe on their own is one of the best feelings ever, right?
A video of Self Defence For Kids
information on Self Defence For Kids
Is Self Defence an option for your kids?
What exactly are the kinds of threat you need to protect your kids from?
Strangers/Robbers/Kidnappers
It's just not enough to tell your kids to not talk to strangers. Kids are easily distracted; strangers might lure them or tempt them with candies or toys.
Bullies
Sometimes we think that the school is the safest place for kids. But bullies attack when teachers aren't around. Your kids should be able to stand up against bullies and protect themselves and their peers, not just against physical harm but also verbal harassment.
Accidents
Kids must also know how to deal with accidents like tripping and falling. They need to learn techniques in hitting the ground safely.
Internet
Cyberspace can be a very dangerous place. You wouldn't know who your kids are interacting with on the Internet. They must learn not to give out personal information for protection against cyber stalkers and cyber bullies.
Below are some basic self defence tips that you can teach your kids.
Always fill your kid's bag with pepper spray and an ID with picture, your home address and phone number. It is also important that they memorise the address and phone number. Tell them where the nearest police station is and to dial 911 when in danger.
Reminding them to never to talk to strangers is not enough. Tell them to never get near them, never take anything from them, and never go anywhere with them.
Tell them that they should not provoke or fight back bullies but they also shouldn't be intimidated or threatened. When they are being bullied or if they see anyone being bullied, teach them to call an adult, a teacher or a parent, so they can sort out the situation.
Password-protect your computers and block the sites that are not suitable for children. Tell them not to submit any personal information over the Internet without a parent's permission.
Encourage them to have martial arts training. Enrol them in martial arts schools.
Self Defence is Mainly about Martial Arts
Martial arts like Jiu jitsu, Karate, and Judo will teach kids how to defend themselves without using weapons and are great kids activities. Martial arts training will teach them techniques of using different parts of the body for self defence.
Aside from learning self defence, what are the other benefits that your kids will get from martial arts training?
Independence
Knowing that your kids know martial arts will stop you from worrying whenever you're not with them. You will be assured that they are capable of taking care of themselves.
Confidence
Developing new skills will bring out confidence in them. They won't get easily intimidated by other people.
Discipline and Respect for Others
Learning self-defence doesn't mean you are aggressive. In martial arts classes kids are also taught to use their skills only when they are in danger and to help anyone who is in danger. It will also teach them self control and to follow instructions as self defence requires coordination of different body parts.
Physical and Mental Fitness
Practising martial arts is also a form of exercise that helps us have a sound mind and body.
There are martial arts schools in Australia that cater to all ages. Children as young as 5 years old can learn martial arts. Check out our ActiveActivities Directory for schools and lessons.
Self defence is a necessity that everyone, especially kids, should learn. Knowing self defence and martial arts will bring us peace of mind. Get your kids to start self defence training and you never have to be paranoid about their safety anymore!
Articles related to your search: