Benefits of regular Capoeira practicing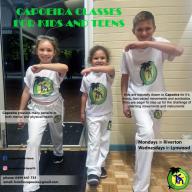 Capoeira is not just a martial arts, it's a great mix of dance, acrobatic moves, music AND martial arts. In addition to offering practitioners a means of learning self-defense and fight against bullying, it provides a healthy way to release pent-up aggression and frustration in an environment where positive thinking and acting is promoted. Below, we'll try to give some examples of the benefits that Capoeira can have on both kids and adults:
1. Physical & Health Education
Valuable self-defense skills
Cardio-vascular fitness
Acrobatic moves learning such as cartwheel and handstand
Complete body training
Improves motor coordination
Increases flexibility through stretching and breathing exercises
Improves stamina
Weight management

2. Multi-Cultural Education

Introduction to the Portuguese language
Exposure to new cultural ideas, foods and traditions
Brazilian history
Exposure to traditional dances, songs and music

3. Social and Emotional Health

Increases self-esteem
Builds character
Improves anger management skills
Builds self-confidence
Teaches patience, self-discipline and respect
Builds a sense of community
Increases attention
Learn goal-setting skills

4. Music Education
Learn to play musical instruments
Singing
Learning traditional musical rhythms
Dance skills
Capoeira has just started to be tough here in Australia. It's very different from anything you've seen before, but definitely worth to try!