martial arts for kids in Victoria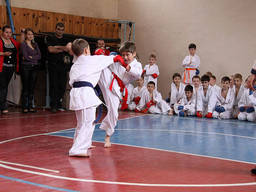 Fitness and martial arts is a good combination. There are many ways to keep your kids active, fit, and lead a healthy lifestyle; but martial arts can teach them so much more. Along with martial arts skills taught in self defence classes, kids will also learn life skills, street awareness, and most important of all, safety skills. Martial arts training will help them gain discipline, self-confidence, independence, and a sense of self-responsibility as well as responsibility for others. Let them have the ability to protect themselves and others against harm!
A video of martial arts for kids in Victoria
Little taekwondo students demonstrate the basic taekwondo techniques.
Information on Martial Arts for kids in Victoria
Why learning martial arts in Victoria is a great activity for your kids?
Kids tend to be more vulnerable than adults. Elders might also not always be around to watch over them. Martial arts can help kids defend themselves when they are on their own. Martial arts is also a good form of exercise. Most martial arts require lots of body movement, some requiring only the hands or the feet; but all of them help develop basic motion skills and hand-eye coordination. If you want your kids to learn a kind of sport that focuses heavily on discipline, then combat sports like martial arts might just be the answer. Common combat sports for kids in VIC and other parts of Australia include karate, taekwondo, jiu-jitsu, kickboxing, wrestling, and mixed martial arts.
Martial arts training teaches kids different techniques with the use of weapons and different parts of their body, mainly for self defence. Knowledge in martial arts is also useful in other activities. Kids who are trained in martial arts will tend to have healthier minds and bodies, making them fit to practise other sports and activities for kids that require lots of movement.
Martial arts classes also provide children an outlet to express themselves. Kids, like adults, can be stressed too; and the classes are safe and supervised – a place where they can release their frustrations, a place where they can deal with anger management issues.
Get your kids to start martial arts!
A child can begin martial arts training when he is of school age (5 to 10 years old). The different martial arts disciplines involve different levels of physical contact. It is recommended that you do some research first before deciding on which martial arts training you would want your kids to participate in. Our ActiveActivities Directory lists all the available karate classes, kickboxing classes, and all the martial arts classes in Victoria, and especially Melbourne. Make sure that the martial arts training program you will choose will bring out the best in your kids in a safe and child-friendly environment, with round the clock supervision.
Martial arts training is one of the most beneficial kids activities that your child can take part in. Who says fun and discipline can't go together? Martial arts training programs for kids make it possible!
Articles related to your search: