Aikido coaches & instructors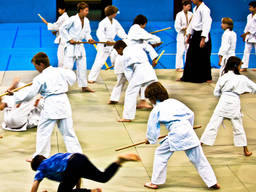 Aikido is a Japanese martial art developed by Morihei Ueshiba as a synthesis of his martial studies, philosophy, and religious beliefs. Aikido is often translated as "the Way of unifying (with) life energy"or as "the Way of harmonious spirit." Ueshibas goal was to create an art that practitioners could use to defend themselves while also protecting their attacker from injury. Get your kids active, healthy, in shape and increase their stamina by enrolling them in Aikido associations!
Category:Sports
Approximate age to start Aikido:4 years old
Approximate price:Adult classes (15+ years) - $7.00 Children (8 to 14) - $5.00
Gear/equipment needed and approximate price range: BUTOKA SEIKA Aikido Uniform Set - $67, Bokuto - $14, Jo - $54, Shinai - $30
This activity comprises of: Competitions, Events, Aikido training, Aikido Summer camps
Best period of the year:Anytime
Most appropriate region:All locations
School holiday programs available:YES
A video of Aikido coaches & instructors
Kids learning the art of aikido with their sensei or teacher
Information on aikido coaches
Which aikido coaches and instructors are great for your kids?
The Japanese term aikido is usually translated as "the Way of the Harmonious Spirit". It was developed by martial artist Morihei Ueshiba with the goal of creating an art that practitioners could use not only to defend themselves but also to avoid harming their attackers.
Consulting with an martial arts, aikido focuses on not hurting the attacker. Aikijutsu, one style of aikido, focuses on preempting attacks. It emphasizes throwing techniques and joint manipulations to successfully stop an attacker. Similar to judo and kendo ("the way of the sword"), aikido helps sharpen your children's physical and mental health. A sensei ("person born before another"), or instructor/teacher, will ensure that your children receive the proper training while they take aikido lessons.
Listed below are two organizations with suitable aikido coaches and instructors that will help your children learn this martial art:
Aikido Sydney CityAikido Sydney City, or ASC, is a full-time dojo located in the inner-city area of Sydney, Australia. Classes are offered for children, teenagers, and adults. ASC belongs to a worldwide network of Aikido organizations following the teachings of Yoshinobu Takeda Shindan known as Aikido Kenkyukai International (AKI).
Aikido ShudokanAikido Shudokan was the first Yoshinkan style dojo in Australia. It was founded by Joe Thambu Shihan in 1980, and has schools in Thorbury, Oakleigh and Melbourne CBD.
Get your kids to start Aikido!
Your toddlers should take aikido lessons because kids activities like this will be both enjoyable and character-building. An aikido teacher, or sensei, will help train them rigorously, and repeated classes will help them be more active, mentally and physically.
Although there are a lot of how-to videos online, live aikido coaches and instructors are more effective than online instructors. Hands-on training will guarantee that their aikido lessons are internalized.
Physical training is a big part of mastering aikido and this will help children be more active as well. Aikido lessons will sharpen your kids' self-discipline because the ability to relax the mind and body during stressful situations is also an important aspect of martial arts training.
Scheduling your children's aikido lessons doesn't need to be stressful- arrangements can be made with their sensei so their training doesn't interfere with their school and playtime.
How do you choose the best aikido coaches and instructors for your children? The first thing you should do is have a look-see at the potential aikido schools in your area. It is better to survey the potential aikido schools before making a rushed decision. There are a lot of aikido dojos in Australia, specifically in Sydney.
Signing up for aikido doesn't just mean enrolling your toddlers in activities for kids, it also means taking a serious interest in helping them develop physically and mentally as well.
Enrol your children in aikido lessons for an enriching activity that is both fun and character-forming!
Visit our ActiveActivities directory for more tips on how to find the best Aikido coaches and instructors in Australia, as well as other
Articles related to your search: