Sports clubs for kids in Sydney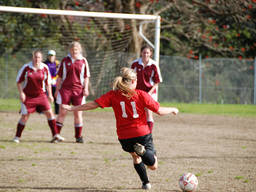 Signing up for sports clubs for kids is a great way to spend the holidays in a productive way. Sports clubs will help sporty kids improve their talents and gain new skills, as well as introduce sports, fitness, and physical activity to non-sporty kids. If you and your kids plan to spend kids school holiday in New South Wales, we recommend that they try joining sports clubs for kids in Sydney, NSW!
A video of Sports clubs for kids in Sydney
This video is a campaign that encourages children to get involved with sports clubs. Want to know the many benefits that your kids can get from joining sports clubs? Then you should watch this clip.
Information on Sports Clubs for Kids in Sydney
Why are sports clubs for kids in Sydney great activities for your kids?
Sports plays a significant part in Sydney's culture. The most popular sport in the city is rugby league, and the most popular summer sport is cricket. Sydney is also one of the three cities in Australia to represent the four major football codes – rugby union, rugby league, soccer, and Australian rules football. Other famous sports in Sydney include horse riding, sailing, and surfing. If you are looking for kids school holiday activities in Sydney, then you can let your kids try out these sports by joining the many sports clubs in Sydney.
There are sports clubs in Sydney available for all the popular sports mentioned, as well as other sports that your kids might be interested in (see our ActiveActivities Directory for a list of available sports clubs for kids in Sydney). Included in those sports clubs are fun and engaging kids activities and sports programs for kids like training programs, workshops, competitive games, and holiday kids camps.
Sports clubs can specialise in a single sport like basketball clubs. Soccer clubs in Sydney are also in demand as the sport is also very popular in Australia. Sports clubs that specialise in a single sport can be preferred by kids who are already introduced to a particular sport and are interested in learning more about it. There are also multi-sports clubs that are perfect in introducing sports to kids. Kids get to try different kinds of sports, learn basic sporting skills, and decide which sport they like to pursue once they get the hang of them.
Most sports clubs in Sydney specialise in team sports. These clubs aim to develop not only sporting skills, but also important values such as leadership, cooperation, and good team spirit. But there are also sports clubs for individual sports like athletic clubs, tennis, horse riding, gymnastics, surfing, and martial arts.
Sports clubs for kids accept 3 year-olds and above, and are usually available in schools, gyms, community centres, and sporting centres around Sydney and NSW. These sports clubs provide coaching with instructors, who are trained to specialise in kids to keep them focused and entertained while learning about having a healthy lifestyle. Aside from holding motivating and interactive activities for kids, sports clubs also provide excellent facilities and full-time supervision.
In addition to sports clubs that your kids can join, there are also awesome sports attractions in Sydney that might be educational for your kids. These attractions are must-sees when you visit the city.
Sydney Olympic Park
The Sydney Olympic Park is not only full of sporting venues, but also hosts arts and cultural events, kids programs, and recreational facilities. It has a kiddie pool and fun water slides.


Sydney Cricket Grounds
Since cricket is the most popular summer sport in Sydney, the Sydney Cricket Grounds is rich in history.Take your kids to the Sydney Cricket Ground Museum to see some cool cricket memorabilia, including Don Bradman's original bat.
Sports clubs will make your kids' holiday a fun and educational one. Get your kids to try a new sport!
Articles related to your search: