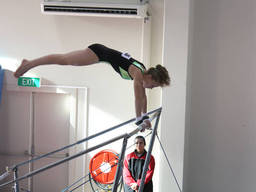 Gymnastics is a series of routines and feats of strength performed on various equipment, utilising strength, agility, flexibility and balance. Gymnastics was developed in Ancient Greece as a form of exercise.
Then adopted by the Romans, it suffered a decline until the 19th century, whereupon it was reinstated in the 1896 Olympic Games. Australia's first Olympic participation occurred in the 1956 Melbourne games.
One of the most physically demanding
kids' activities
!
A video of Gymnastics for Kids
Gymnastics & Tumbling : How to Do the Splits for Kids. When kids are trying to do the splits, they should make sure to stretch out first, and the teacher can help out by singing a song to make it fun. Make sure the back knee is turned under for kids' splits with help from a gymnastics coach in this free video on gymnastics and tumbling.
Information on Gymnastics for Kids in Australia
Is this sport for your kids?
Gymnastics is conducted in a gymnasium.
Gymnastics lessons for kids can be enjoyed by children as young as 2 years. Kids will learn floor, beam, trampoline, vault and bar routines, with other apparatus and strength training introduced at later levels.
Performances are marked out of 10. Attaining a perfect 10 is a near impossibility, with only a handful of gymnasts able to claim this honour.
Routines range from E (easiest, able to be performed by juniors and amateurs) to A (most difficult, international standard). Routines with more A exercises have a greater scoring capacity, but are the most challenging.
Although part of a team, gymnasts largely perform alone and are judged individually, with scores contributing to team success.
Gymnastics encourages a range of development and discipline in children> and young adults. Gymnastic training teaches:
Agility
Balance and precision
Coordination
Strength
Endurance, and flexibility
High level of attention and focus is required. It has been reported that many children who participate in gymnastics as a sport have an enhanced concentration levels in their school work
Male and female gymnasts compete on the following apparatus:
Male and female:
Male apparatus
Pommel horse
Roman rings
Parallel bars
High bar
Female apparatus
Uneven parallel bars
Balance beam
Rhythmic floor routines
Junior gymnastics lessons are readily available through schools and clubs Australia wide. Lessons can be held weekly and charged monthly, often averaging $60 per month. Check the ActiveActivities directory to find details of your local gymnastics club
Get started
Children at lower levels need wear little clothing apart from a leotard, or shorts and t-shirt. Certain training can be performed at home, in parks or on the beach with adult supervision. At later levels, equipment needed may include:
Hand grips
Leggings and tracksuit
Tips for success
Warm up properly before training
Ask your coach for appropriate exercises to practice at home
Stars and events not to be missed!
Whilst there are plenty of local and international competitions, the largest event in the gymnastics calendar is the Olympic Games. Traditionally, Russian, Chinese and American teams are fierce competitors; but Australian gymnasts such as Lauren Mitchell, Allana Slater and Georgia Wheeler have achieved much success, dominating Commonwealth Games competitions since 1998.
Articles related to your search: