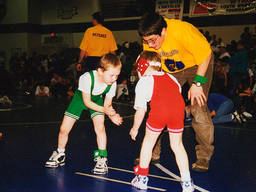 Wrestling's origins are thought to go back 15,000 years, as cavemen drawings suggest the early existence of the sport. From the Iliad to Mahabharata, wrestling has featured prominently in literature, where strength and agility are among the most important characteristics of warriors and gods. Today, wrestling is one of the fastest-growing sports in Australia. Wrestling showcases resilience and valour whether it is for entertainment, fun, or competition. Are your kids ready to become modern warriors?
Category: Sports
Approximate age to start wrestling: 3 years old
Approximate price: $400
Gear/equipment needed and approximate price range: Wrestling shoes ($35), Mouth Guard ($5), Ear Guard ($20), Singlets ($40), Knee Pads ($10), Sports Medicine, Wrestling headgear ($10)
Best period of the year: Year round
School holiday programs available: YES
A video of Wrestling for kids
These junior wrestlers are impressive!
Information on wrestling for kids
Is wrestling for your kids?
It is common for people to confuse wrestling with boxing, so before you think about wrestling as a kids activity make sure you understand the differences. Although both are considered combat sports, wrestling by a diverse and distinct set of rules and disciplines.
Wrestling for kids includes both boys and girls options. Wrestling coaches aim to harness kids' strength and skills through age and gender-specific training. In Australia, there are a growing number of camps which offer wrestling for kids, and there will likely be a number of restrictions before you can enrol. Take the time to find the right wrestling camp for your kids.
Here is a short list of the benefits of wrestling. This may help you decide if you are thinking wrestling for kids. Wrestling:
Provides an opportunity to children to engage in a physically demanding sport
May provide an opportunity for your kids to develop their strength and agility.
May serve as a form of self-defence training.
Helps teach the importance of discipline.
Helps students become aware of bullying and contribute to campaigns against bullying.
Toddlers can engage in wrestling from as young as three, but it is important to note that wrestling safety guidelines restrict toddlers from practising some wrestling moves. To learn more about wrestling for kids, check out the ActiveActivities directory for a list of helpful resources.
Get your kids to start wrestling!
If you're a mum or dad who is considering wrestling as activities for kids, you might be thinking about where the sport might take them. Wrestling is an Olympic sport, so the sky's the limit! Your child might win Australia's first Greco-Roman medal, or possibly follow in the footsteps of Farzad Tarash, Australia's only wrestler to qualify for the London Games. Your child might like to join Wrestling Australia, which is the peak national Australian sporting organisation for wrestling in Australia.
If your child decides to start wrestling, they might like to try these different forms:
Beach Wrestling
Collegiate Wrestling
Freestyle Wrestling
Grappling
Greco Roman
MMA and Combat Grappling
Oil Wrestling
Pankration
Professional Wrestling or Sports Entertainment
Sambo
Getting ready to prepare your kids for wrestling camp? Here's a list of the wrestling gear will need:
Wrestling shoes
A mouth guard
Ear guards
A singlet or wrestling shirt, and wrestling shorts
Knee pads
Sports medicine
Wrestling headgea
Allow your kids to discover their inner warriors and let them be their own modern heroes through professionally-guided wrestling drills! Check out the ActiveActivities directory to jumpstart your little trooper's ultimate warrior activities.