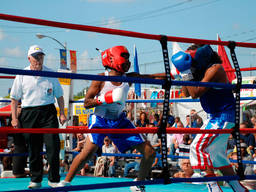 Boxing is a form of martial art or combat sport where two people test each other's strength, endurance, and reflexes by throwing punches at each other using gloved hands. It is supervised by a referee over a series of rounds that last for one to three minutes. Australia's contribution to the history of boxing is the Automated Boxing Scoring System, which introduced scoring objectivity and improved safety. Until today, boxing is the most popular sport in the world, including Australia. Are you interested in getting your kids into a martial art? Introduce them to boxing!
Category: Sports
Approximate age to start Boxing: 8 years old
Approximate price: Monthly boxing club membership fee - $75
Gear/equipment needed and approximate price range: Boxing attire ($30), Boxing gloves ($40), Punching bag ($30 to $80)
This activity comprises of: Footwork, punching combinations, offense and defence techniques
Best period of the year: Year-round
School holiday programs available: YES
A video of Boxing for kids
Boxing can be a form of self defence against bullies. It also promotes discipline and respect that can help prevent your kids from turning into bullies!
Information on Boxing for kids
Is boxing a great activity for your kids?
Aside from boxing being a combat sport and a competitive sport, it is also a form of self defence. Statistics prove that boxing for kids is one of the safest sports that your children can engage in. Participating in boxing programs can help them develop qualities that will transform them into well-rounded athletes. It can be a good training for children who play other sports.
What are the benefits of boxing for kids?
Helps fight obesity
Childhood obesity is very common today. Boxing as a form of exercise is a great way to keep kids fit and active. Boxing programs include food and nutritional talks with the kids on a daily basis, providing them awareness on proper diet, nutrition, and exercise.
Focus and self-discipline
Boxing involves having fast reflexes. For this to happen, the child should be always alert and focused. Focus and self-discipline can also help kids become more focused in school and become better listeners as well. Knowing how to follow instructions and being able to control yourself are the characteristics of a responsible person. Having discipline and control means you are also able to make good decisions.
Balance and coordination
Boxing training can help improve balance and posture. Learning this skill early in life can help them adjust in other activities for kids like riding a two-wheel bike. Balance and coordination go together. They are essential skills in physical development that allows your kids to become better participants in physical activities.
Memory
Martial arts have some particular drills and techniques that they need to remember and apply. Developing a good memory is also a good brain exercise.
Youth boxing programs teach basic boxing skills, such as footwork and punching techniques. Most boxing programs have group classes for kids starting 8 years old. If you think your toddlers are too young for group classes, private lessons are also available. Boxing programs for kids are available in youth boxing clubs, and other sports clubs for children.
Get your kids into boxing!
To get started, your child needs workout attire and sneakers. Boxing gloves, hand wraps, and boxing bags can be found in sports stores, but the clubs can provide them at a discount. If they would like to train in your home, you could also buy them their own punching bags. There are appropriate punching bags for kids, make sure to get assistance from the store attendant.
Visit our ActiveActivities Directory to see which boxing clubs in your area have boxing programs suitable for your kids. The ideal clubs and programs for your kids are those that can provide them with the mentioned benefits while having fun under a safe and encouraging environment. Kids can enjoy their classes if they are incorporated with engaging kids activities like friendly boxing games. If you don't think they will get into this kind of sport but would still like to encourage martial arts and self defence to them, they can try similar sports like karate for kids.
Boxing for kids aims to give every child the self-assurance that they will carry for a lifetime. Let them give it a try, and you'll be surprised how it can be a rewarding experience!