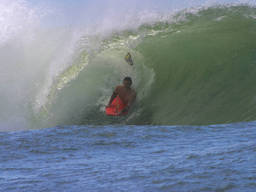 A first step to surfing, or a sport on its own, your kid will decide!
Make a splash with this sensational water sport!

Bodyboarding involves riding the crest of waves on a rectangular board known as a bodyboard. It is popular in coastal regions of Australia. A great way to introduce kids to surfing or as a sport in its own right, bodyboarding is fun and exciting!
A video of Bodyboarding for Kids
Information on Bodyboarding for Kids
Is bodyboarding for your kid(s)?
Do your kids love the water? If they enjoy splashing around in the waves, they might love to try bodyboarding. This kids activity is a great way for kids to get used to waves and build their confidence in the water and its great exercise too! Some other benefits include:
Bodyboading introduces children to the concept of surfing
Improved fitness and strength
Helps kids develop their sense of balance
Bodyboarding helps kids learn about the surf and surf condictions
Inexpensive – cheap kids bodyboards are available from most sports shops or you can get one second hand for even less!
It's fun!
Not sure what age to start? Kids can start playing with a small bodyboard in the water at any age and progress to using it properly whenever they are confident and ready. Bodyboarding lessons usually start at around age 6 or 7 and cost around $50 a lesson for casual classes.
Supervision is essential when kids are in the water. When bodyboarding it's important to be aware of the safety risks posed by currents, rips, large waves and adverse weather conditions. It's a good idea to start bodyboarding on a patrolled beach in a sheltered area and make sure a responsible adult is always close by. In cold weather, your child might need a wetsuit.
Get your kids to start bodyboarding!
Do you live near the beach? Why not arrange a first bodyboarding lesson for your kids? Check out our ActiveActivities Directory for a local surf school. If your child and their friends are keen bodyboarders, or just love the beach, they might enjoy taking part in some bodyboarding activities for kids. Adult supervision is essential and it is a good idea to have a trained lifeguard on hand. Your local surf school might offer a group session, which is probably a better bet than trying to supervise a number of children in the surf at once!
To get your kids started they will need a bodyboard, leash and possibly a wetsuit. A bag to carry their bodyboard in is useful, as are fins to help them develop speed once they get up their confidence. Why wait? Take your kids to the beach to discover this fun and exhilarating sport!
Articles related to your search: