Board Sports For Kids In The Perth Region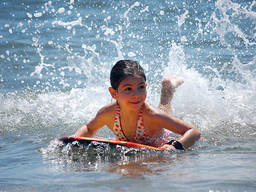 Scarborough, Perth is famous for its surfing beaches.
Board sports are often considered extreme sports, making them more appealing to kids as they are naturally adventurous. It is also one of the most adaptable sports because types vary, depending on the terrain and the weather. There are board sports for water, flat ground, snow, and for air. The most popular type of board sports in the Perth region are water board sports. Perth stretches along a flat coastal plain, surrounded by the Swan River. The lifestyle in Perth is laid-back, quiet, and safe, defined by its many uncrowded beaches along the coastline. Consider Perth in your list of must visit places during the school holidays!
A video of Board Sports For Kids In The Perth Region
Tandem windsurfing is ideal for parents who want try windsurfing with their toddlers. Kids as young as 2.5 years old can try this activity provided that they have life jackets.
Information On Board Sports For Kids In The Perth Region
Why are board sports in the Perth Region great activities for your kids?
Perth boasts some of the best beaches in Australia that are visited during the summer by locals and tourists for leisure swimming, water sports, and other activities for kids and adults. It has a Mediterranean climate, making it an ideal summer destination. The popular choices of water sports in Perth are board sports, sailing, and canoeing. The region has a long stretch of white sandy beaches for water sports aficionados.
Cottesloe
One of Perth's most popular beaches, Cottesloe is a nice destination for surfing, snorkelling, and fishing. It is a safe swimming beach, but there may also be strong currents that develop near the groins, perfect for board sports. There are many establishments nearby, as well as free barbecue facilities and a variety of accommodations. Cottesloe is accessible by bus and rail transport.


Scarborough
Scarborough is famous for its sunny weather, swimming and surfing beaches, and relaxed lifestyle. It is home to a surf lifesaving club and surfing competitions. The waves can be rough; rips and currents are fairly common so it might be more suitable for experienced swimmers and surfers. The cool sea breeze is great for kiteboarding and windsurfing.


City Beach
A popular family beach with rips and breaking waves around the groins for those who surf. The family friendly recreational areas and playgrounds create a clean and sociable atmosphere that is fit for all ages.


Trigg island
Trigg Island, one of Australia's most popular surfing beaches, has the biggest and the best surf breaks in Perth. Aside from board sports, the island is also great for dolphin and bird-spotting. Your kids will also love the surf lifesaving carnivals that arrive during the summer months.
Outside of Perth, Western Australia's water sports hotspots also include Geraldton, Margaret River, and Lancelin. Geraldton is located north of Perth. It has scenic beaches, such as the St. Georges beach, which hosts a modern playground complete with water activities for all ages. Geraldton's most popular surf spots include Flat Rocks, Greenough, Sunset Beach, Back Beach, and Glenfield Ð the most popular windsurf spot is Coronation Beach. Lancelin, also located above Perth, includes kiteboarding, windsurfing, and sand boarding among its most popular board sports. It was even called the international mecca for windsurfing because of the ideal wind and water conditions in the area.
Margaret River, located south of Perth, hosts some significant surfing competitions usually held at Surfers Point, a world-class surf break. Other adventure activities you and your kids can partake in Margaret River include caving and bushwalking.
If you want a for-all-seasons type of board sports for your kids, then they should try skateboarding. It is one of the most popular hobbies for kids today. In Perth, most kids use skateboards as their primary mode of land transportation as well as a sport. Most neighbourhoods have skate parks that sometimes hold skate exhibitions and competitions.
If you choose to spend the holidays in Perth region, we recommend that your kids play board sports in its famous beaches. Hire facilities are located everywhere where you can rent board sports equipment like paddle boards and surf boards. If they are interested to learn board sports and other water sports, Perth has many surf schools; most beaches also offer surf lessons.
Board sports may not be suitable for all kids. Some kids might not find it interesting; some parents might think that it is too dangerous for their kids. You and your kids can still enjoy your stay in Perth because there are lots of attractions and fun things to do. Our ActiveActivities Directory has some suggestions for kids activities available in Perth region.
Make the most out of your kids' summer in Perth! Get them to lead an active lifestyle. Board sports in Perth region might be the best choice!
Articles related to your search: