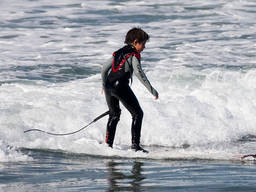 A young boy in full gear surfs near the shore.
Too much TV and junk food are bad for your kids' health. Keep them active and fit by encouraging them to play sports such as board sports.
There are different board sports that will cater to your child's interest. If they are into water sports, they can learn board sports like surfing and wakeboarding. Otherwise, there are also board sports they can learn on flat ground like skateboarding and longboarding. If your kids are not afraid of heights, they can also learn skysurfing. During the winter, a great family holiday, is snowboarding in the Snowy Mountains.
A video of Board Sports For Kids
SurfGroms, a national junior development program, encourages kids from 5-12 years old to engage in surfing. Surfing and other board sports is a perfect way to keep your child busy during the summer.
information on Board Sports For Kids
Board Sports for Kids
Encourage your kids to go outside and play! Staying inside the house the whole day and just playing video games, watching TV, and other similar kids activities are bad for their health. Keep them healthy and active with board sports!
Board sports are sports that are played using a kind of board as the primary gear, hence the name. They are often considered as extreme sports that's why they are very appealing to kids as they are active and adventurous. The types of board sports vary depending on the terrain and the weather. There are those that take place on paved flat ground, some on water, some on snow-covered hills, and some are airborne. Water board sports are better played during the summer, as well as the board sports played on land and in the air. Board sports played on snowy areas are of course considered as winter sports. The following types of board sports are classified by terrain :
Are board sports for your kids?
Just like any other sport, board sports can influence your kids in many ways.
The most popular board sport amongst kids is skateboarding. Aside from the reason that it is the easiest to learn, it is also one of the leisure activities for kids that you can do anywhere. Your kids don't have to go far to ride a skateboard. They can do it on the streets, at the local school or in your garden where you can build skateboard ramps. Most neighbourhoods also have skate parks.
Get your kids to start learning a board sport!
Board sports are learned in different ways. Most of the time, kids like to learn on their own by watching and listening to their friends. But it would be safer to enrol them to board sports lessons where there are professional instructors. In these lessons, the kids are taught the proper stances, how to balance, and also safety measures like wearing protective gear.
We are incredibly fortunate in Australia to have access to so many beaches. let your kids enjoy the cool wind and the waves by enrolling them to sports boarding schools for water sports like surfing, kite boarding, and paddle boarding. Water board sports lessons cost about $100-$200 per lesson. You can browse our ActiveActivities Directory for comprehensive details and resources on all boards sports for kids in Australia.
Help develop new skills in your kids and encourage an active lifestyle. Get them to learn a board sport!
Water – body boarding, surfing, windsurfing, kite boarding, and wakeboarding
Paved Flat Ground – skateboarding, longboarding, and street boarding
Snow – snowboarding, snow skating, and snow kiting
Sand - sand boarding
Air – skysurfing
/ul>

Physical Fitness
Growing kids need at least one hour of physical activity everyday. Board sports are one way of keeping your kids active and healthy.
Discipline
In order to achieve your goals, learning a board sport included, requires discipline. Kids need to listen to their instructors and attend their lessons regularly. Along with discipline, they will also develop maturity and perseverance.
Self-confidence
Being good at something will give kids a sense of pride and confidence, especially if they receive support and encouragement from the people around them.
Maturity
Letting them join in groups like the surf lifesaving club will give them a sense of leadership and responsibility.
Articles related to your search: