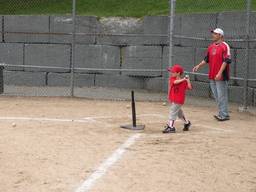 "T-ball" or "Tee ball" is a ball sport that started in the 1950s, and is considered an introduction to baseball for children. This game involves the use of a tee for better chances at batting off the ball, and getting it into fair territory. Aussie T-ball is the nationally recognised t-ball game by the Australian Baseball Federation, Australian Sports Commission, and Major League Baseball.
Category: Sports
Approximate age to start t-ball for kids: 4
Approximate price: Average price of $100 (Complete gear, but not compulsory to start)
This activity comprises of: balls, bats, coaching, helmets, tees, training, t-ball rules
Best period of the year: All Year Round
Most appropriate region: Anywhere in Australia
School holiday programs available: YES
A video of T-Ball for kids
Watch a short instructional video on T-ball for kids!
Information on T-ball for kids
Is T-ball for your kids?
Do your kids dream of becoming baseball little league superstars? Then, t-ball for kids is your top choice! T-ball, also known as Tee Ball, is a modified game of baseball for toddlers and children ages 4 to 8 years old. It is one of the ball sports for kids which is truly kid-friendly and enjoyable without pressure. If you want your kids to get started with youth baseball, t-ball is an excellent step for them to learn the rubrics of Australian Baseball.
As parents, we must always be a step forward when it comes to choosing kids activities. Australia is one of the regions where activities for kids greatly matter to us. If we dream for our kids to follow the footsteps of MVPs, such as Benjamin Moore or Virgil Vasquez, t-ball for kids is our best choice among school holiday activities.
In terms of safety, t-ball does not pose any danger to our kids. They can exhaust all their energy on running and batting off the ball without the fear of getting an injury. Just like ordinary baseball, t-ball for kids is not as physically challenging as football or rugby. Some kids may fear getting a strike, but when it comes to t-ball, they have very good chances of hitting the ball because of the t-ball stand.
What do you need to know about Aussie T-ball?
Aussie T-ball is all about involvement.
Every player will get a chance to bat off the ball from the tee.
Fielding positions rotate every inning.
Aside from batting, kids will learn catching, throwing, and fielding.
There are no pitchers because the ball is placed on a tee.
Each game is restricted to one-hour of play or six innings (whichever comes first).
Competitions usually run for 8 weeks.
There are various camps where learning programs are led by coaches who have been among the mentors of professional baseball players. Check out ActiveActivities directory to see a list of youth baseball camps which offer t-ball for kids in your area.
Get your kids to start playing t-ball!
Start scouting for baseball clubs for kids in your area. There are programs for t-ball for kids that are aimed at teaching them t-ball rules which are essentially the basics of baseball. There are day-to-day drills for kids that will get them accustomed to playing Australian baseball.
It may be a good idea to give your kids a little background on t-ball by training them in your backyard. You may buy them plastic bats and tees, balls, and helmets to practice with. If you're willing to spend on your kids' first t-ball kit, the licensed suppliers of the Australian Baseball League are Edge 85, Majestic, Mizuno, New Era, Rawlings, and Sam Bat.
As soon as they're in camp and wearing t-ball uniforms, their game will surely level-up. Just make sure that as parents, you are always willing to support your kids. Don't let their game get in your head.
Advice for parents who are considering t-ball for kids:
Encourage. Do not pressure our kids to win. Let them improve their game.
Be a spectator. Stay out of the game, and let our kids have fun.
Be conscious about your initiatives for support. Support t-ball fundraising events.
If you have concerns about your kids' performance, consult the coach.
Enjoy the show. Do not be the show.
Do not make obscene gestures or say foul words.
Understand the rules of the game.
If you have complaints regarding violations and unfair play, write a formal complaint.
Give your future leaguers the right pitch to get them started on t-ball for kids! Check out ActiveActivities directory for more information about t-ball programs and camps.