soccer clubs for kids in Brisbane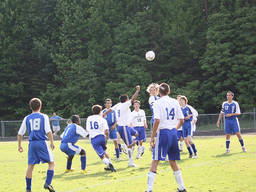 Does your child dream to represent Brisbane, Queensland, or even Australia in soccer competitions? Does he enjoy playing with his friends? Then sports for kids are the perfect way to achieve them. Soccer, or association football, is one of the most popular sports played by children today, not only in Australia, but all over the world. Looking for activities for kids in Brisbane? They will surely enjoy in junior soccer clubs!
A video of soccer clubs for kids in Brisbane
Thinking about signing your kids up for a soccer club? Here are some soccer drills that your kids can practise to improve their soccer skills.
Information on Soccer Clubs for kids in Brisbane
Why joining soccer clubs in Brisbane is a great activity for your kids?
Soccer in Queensland is popular among kids and adults alike. In fact, one of the earliest recorded soccer games took place in Queensland. Football Queensland (formerly known as Queensland Soccer) is the governing body of soccer in Queensland. They are the organisation that organises state-wide competitions such as the Hyundai Queensland State League. Among the regional zones in the state, the strongest in regional competitions is Brisbane Premier League. The soccer club for the youth competing nationwide is the junior soccer club Brisbane Roar.
Soccer clubs in Brisbane and all over Australia aims to help kids develop soccer skills and important life skills to achieve their dream. At soccer clubs, they get to learn to become fit and active while playing with old and new friends in a fun and child-friendly environment. Soccer clubs provide programs incorporating work with play through kids activities that enables them to have fun while learning. Football Junior Premier League is the most prominent soccer club in Brisbane for kids.
Soccer has other variants: futsal and beach soccer. Futsal is played on smaller pitch, and is usually played indoors, making it ideal for kids who are just starting to learn to play soccer. The futsal team in Queensland is the QLD Futsal Association Inc. Beach soccer can be played by the kids if they are planning to spend the school holidays at the beach. Whenever and wherever, the kids can always enjoy playing soccer.
Get your kids to join soccer clubs!
Why should you let your kids join soccer clubs in Brisbane? You can ensure that your kids will achieve their full potential in soccer as all the programs of soccer clubs in Brisbane follow a single curriculum advised by Football Federation Australia and supported by Football Queensland. The curriculum starts from Discovery Phase, then Skill Acquisition Phase, Game Training Phase, and last, Performance Phase. Kids can start joining soccer clubs at the age of 3. They will first be introduced to the sport and do some fun activities. Then they will be taught the basic skills like running with the ball and striking the ball. When they are ready, they can already participate in competitive games to learn the concept of winning, losing, and fair play.
Soccer clubs offer programs and camps during the school holidays, before or after school, and in child care centres. See our ActiveActivities Directory to find soccer clubs in near you.
Competition and victory are thrilling experiences. Let your kids experience them in a safe and friendly environment. Encourage them to join soccer clubs!
Articles related to your search: