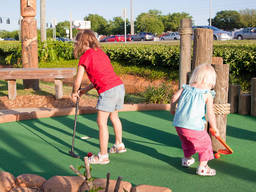 A great way to have fun with the entire family!
Test your kids' skill and agility with this fun game!

Putt putt golf, otherwise known as mini golf is a novelty version of the game of golf and has become very popular in Australia. Played on specially designed courses, players compete to get their balls around a number of fun and challenging obstacles. A great activity for kids and adults alike!
A video of Putt Putt Golf for Kids
Putt Putt Golf, or Mini Golf, is a very popular activity in Australia. In this video, you'll see how much fun your kids could get. And you have inifinite options and themes! So you can find different ones everytime, the exeprience will always be different.
Information on Putt Putt Golf for Kids
Is putt putt golf for your kid(s)?
Are you looking for something a bit different to do with the kids? Putt putt golf might have the answer. Both a sport and a form of entertainment in its own right, putt putt golf can test kids' agility, strength and strategic thinking as well as being a great way for the family to spend time together and have fun, that makes it one of the most popular kids activities. Benefits of putt putt golf can include:
Improved hand-eye co-ordination
Encourages strategic and tactical thinking
Good exercise
Great social activity and a good way for kids to spend time with family and friends
Fun birthday party idea
Can be played both indoors and out, so weather does not have to be a factor
There are a number of different themes for miniature golf courses, some of the most common include:
Pirates/nautical
Tropical jungle
Water based obstacles
Movies/cartoon characters
Night time putt putt golf with backlights
Historical themes
Is your child old enough to swing a club? They're old enough to play putt putt golf. Most centres have special equipment for kids, which is more comfortable for small hands. Your kids can have fun exploring the different obstacles and testing their ball skills!
Get putt putt golf to your kids' birthday party!
Are you looking for a fun way to celebrate your kid's birthday? Why not organise a party at your local putt putt golf centre? Putt putt golf parties usually cost around $20 per child and include games, equipment and party snacks. There is usually a limit on how many kids you can have at your party so check before organising! Putt putt golf centres are located around Australia so there will probably be one near you: check out our ActiveActivities Directory for your local mini golf venues.
Plenty of space in the backyard? You can also hire a mobile putt putt golf service to come to your house. Great for larger kids' parties or if you just want the convenience of having your party at home. A 6 hole course might be best for very young kids, while older children may enjoy a 9 hole course. Don't forget the food, decorations and birthday cake to make your putt putt golf party go with a swing!