Top 10 craziest hole-in-one shots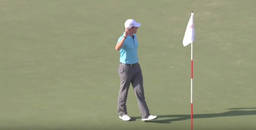 A hole-in-one is usually a once in a lifetime experience. Whether your playing as part of a fundraising effort, in a competition with friends or a more serious golf tournament (check out this first of its kind
hole-in-one competition
in New Zealand – for both amateurs and professionals) there could be a 3-par tee that has your name on it… or not.
A hole-in-one is like the elusive win. Jubilation and exhilaration are usually the emotions that come to mind when watching someone score that lucky one whack shot – you don't even need to win the game to feel elated!
Here, we have chosen some magic one-hit wonder shots that are great to watch – and might even give you that drive you need to get your own!
1. Rory Mcllroy – Abu Dubai (16th Jan 2015)

2. Happy Gilmour

Ok so this is cheating (yes, it's a movie) but the Happy Gilmour shot is one to be remembered. Hilarious!

3. Bouncing in

Here we have a Top 10 of lucky bounce hole-in-one shots.

4. One million dollar prize shot!

This one was for an outback golf fundraiser … and had a whopping million dollar prize!

5. Tiger Woods

Tiger Woods just has to be in here – a 2011 shot from a Phoenix tournament.

6. The perfect mini putt shot

So a hole-in-one doesn't need to mean a par-3. Check out the perfect hole-in-one mini putt at Sydney's Thornleigh Golf Centre!


7. Richard Green

This Richard Green shot is crazy and definitely one to watch!!

8. Clearing waters

This one the ball literally skips across the water before landing the hole-in-one … crazy!!
Click here to view the Video

9. Gregory Havret

This Gregory Havret hole-in-one made him a very happy golfer! Click here to view the video
10. Lucky last for Aussie Aaron Baddeley

And lucky last is Australian's own Aaron Baddeley had an astounding hit on the par-4 in San Antonio – getting a birdie (336 yards). So it's not a hole-in-one but it's pretty amazing considering it was a shot from within the woods: Click here to view the video
So dust off those clubs … and even if you spend most of the time throwing the irons in frustration instead of hitting the balls, who knows … that elusive Hole-In-One could be just around the corner!
Articles related to your search: