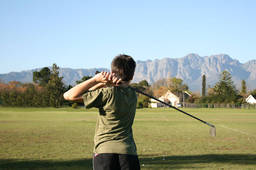 Although golf has a reputation as a sport played by older men, it's a game that can be played by all ages.
It's a sport played on a specially designed course, which means that it can be a little more expensive than others. Players compete to hit a ball into a series of holes with a golf club in the lowest number of shots. Depending on how close you are from the hole, you can use various types of clubs.
Golf as we know it originated in Scotland in the 15th century and the oldest golf course in Australia was built in 1839. Golf can be played all year round in Australia although in some countries the season is limited due to weather. Competitors play either as individuals or as teams and they have handicaps based on their previous performance and scores.
A video of Golf for Kids
6-year-old Karl featured on a TV story on the benefits of sport for kids. A few months after this interview in May 2008 he competed in the World Championships and finished equal 7th. Then, in 2009 he won the 7 year old Boys division at the US Kids World Championships.
Information on Golf for Kids in Australia
Is Golf for your kid(s)?
Golf may have a number of benefits for children including:
Improved fitness
Opportunity for quality family interaction
Aids mathematical ability
Helps with logical reasoning and problem solving skills
Improves co-ordination
Golf is a sport suited both to boys and girls and lessons can start from any age. If your kids can pick up a club, they can learn to take a swing! For an easy, cheap and non-committal way to see if your kids enjoy golf, you could organise a trip to your local driving range.
Get your kids started!
There are a number of options available for kids who want to learn golf. These include:
An easy way to start is to contact one of your local golf clubs and find out what kids' activities they offer. Often there will be the choice of individual tuition with a qualified golf teacher, group sessions or holiday programs. Children are usually not expected to pay full club membership but they will need to pay tuition fees which are usually around $10-$30 per lesson. Private golf lessons usually cost upwards of $40 per half hour.
To play golf, your child will need:
Set of clubs (can usually be hired)
Golf balls
Tees
Golf shoes
A hat
Loose, comfortable clothing
Wet weather gear if appropriate
Golf lessons run all year round and are particularly popular during school holidays so it is best to book well before the end of term to avoid disappointment. Parents can get involved in their child's activities by helping with coaching which can be a good opportunity for positive interaction and bonding.
Don't miss these golf stars and events!
The main event for men's golf in Australia is the PGA tour of Australasia. The Australian Open and the Australian Masters are other prestigious local events. The most famous Australian golfer is Greg Norman who was ranked #1 in the world for 331 weeks. On an international level, Tiger Woods is arguably the most famous player in the world and the US PGA tour the most famous international competition.
If your kids are interested in golf, and you think they're outgrowing miniature golf courses and driving ranges, try the ActiveActivities directory for kid-friendly golf clubs and lesson near you!
Articles related to your search: