Cricket for kids in South Australia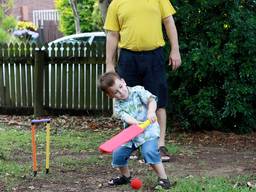 Mention the sport: Cricket in Australia and the first household name that comes to mind would be legendary cricketer: Sir Donald Bradman (better known as "The Don"). Sir Donald Bradman made history by becoming one of the world's greatest test batsman of all time, with most of his greatest achievements taking place during his time with the well known South Australia cricket team: The West End Redbacks. With its rich history in the sport, it comes as no surprise that South Australia has one of the largest supporting community for the nation's junior cricket stars!
Category: Sports
Approximate age to start Cricket in South Australia: Five years old
Approximate price: FREE - $300
Gear/equipment needed and approximate price range: Cricket bat ($90-$200), batting gloves ($26-$50), batting legguards ($45-$60), clothing ($25-$100), helmet ($40-$60), footwear ($60-$70), cricket ball ($10-$20)
Best period of the year: Year-round
School holiday programs available: YES
A video of Cricket for kids in South Australia
The kids take advantage of the nice weather to play cricket outdoors.
Information on Cricket in South Australia
Why is South Australia the ideal destination for cricket?
South Australia has produced some of the greatest cricketers in Australian history that have represented the country in many International tournaments. Cricket for kids in South Australia is not just a simple recreational sport. It is a sport that forms part of their identity and lifestyle for a large part of their lives. Whether your child prefer playing cricket on the beach or out in the open field, the South Australia junior cricket scene will guarantee to have something that appeal to your child's interest.
School cricket - Remains the place where most Australian children have their first experiences with the game of cricket. Starting cricket at the school yard will help prepare your child to play on large scale cricket grounds once they reach more advanced level.
Indoor cricket - Indoor cricket facilities in South Australia run both individual and group coaching sessions with accredited cricket coach all year round for kids of all ages.
Beach cricket - For a more fun and relaxed environment, consider taking your child to participate in the annual Beach cricket program run by the South Australian Cricket Association. The program provide students in school years six to nine the opportunity for a fun day of cricket out in the sun at Adelaide's local metropolitan beaches.
Community cricket - a great way to get your child involve in the local community and have fun playing cricket at the same time. South Australia currently have five junior cricket associations that target children as young as under nine.
For a comprehensive listing of all the cricket facilities listed above, take a look at our ActiveActivities directory.
Get your kids to join a cricket training program in South Australia!
With so many choices for young, aspiring young cricketers, it is not hard to see that cricket for kids provides a great kids activity in general for its fitness and fun but also a pathway to a lifetime involvement with the sport. To get started, parents should consider getting their children involved in one of the many training and coaching programs available across South Australia:
The MILO in2CRICKET program is a fun four week introduction to cricket program that focuses on building your child's basic skills in cricket. The program aims to prepare young cricketers for the MILO T20 BLAST School Cup.
Youth Squads, coordinated by Cricket Australia and School Sports Australia are great pathway programs for young cricketers to build strong batting, bowling, and fielding skills. The program also teaches other important skills in cricket such as leadership, how to keep up your general fitness level, and how to maintain a nutritious diet.
The Adelaide High School Cricket Program of Excellence is a highly sought after program by aspiring young cricketers across the country. Participants in the program have the opportunity to study cricket as a subject in school as well as receive additional world class training and coaching from professionals.
It is recommended for parents to consult with your child's sports teacher and professional trainers and coaches at your local cricket association or training centres to work out the best program that is unique to your child's talent and skills. With such a large selection of cricket facilities and training programs in place, your kid will be batting up a storm on the South Australia cricket ground in no time!
Articles related to your search: