Backyard Cricket and Beach Cricket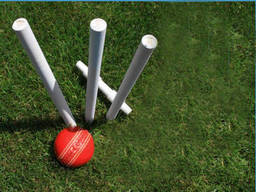 Backyard cricket is a casual variant of cricket. It can also be played on beaches, at parks and just on anywhere there?s enough space.
It?s a great way to spend an afternoon with family and friends!
A video of Backyard Cricket and Beach Cricket
A family playing Beach cricket and having a lot of fun!
Information on Beach and Backyard Cricket in Australia
Will your kids enjoyBackyard Cricket or Beach Cricket?
Do your kids love cricket? Or do they hate any kind of structured sport?
Either way they might enjoy backyard and beach cricket. Kids who are into structured rules may prefer more organized kids activities like standard cricket.
As well as being fun, backyard and beach cricket is:
Cheap or even free depending what equipment you have lying around the house
Great exercise
Family sport for mums, dads, boys and girls of all ages
A good way to improve kids hand eye co-ordination
A way to keep kids and parents occupied at family barbecues and beach events
Great bonding activity for family and friends
Helps teach kids teamwork skills
Are your kids the non-competitive types?
You don't have to implement scoring or even form teams to play a game of backyard cricket or beach cricket. Very small children or those who don't like to compete can just have fun hitting a ball with a bat. Competitive kids might enjoy taking on their parents or their brothers and sisters or even organising a family tournament at big gatherings. Supervision may be required to referee arguments and it is a good idea to make sure you have enough space and are away from roads or other hazards.
How can you organise Backyard Cricket lessons and matches for your kids?
Want to teach your kids how to play backyard cricket?
The basic principle is similar to standard cricket. There are usually two teams who take turns batting and bowling and fielding. The aim is to hit the ball as far as possible and score as many 'runs' as you can between wickets before the ball is returned. With backyard cricket and beach cricket there is no standard pitch size or even equipment. You can purchase a cricket set fairly inexpensively from a sports shop or just use hats or jumpers to mark out the pitch. Backyard cricket and beach cricket usually takes place during the summer months and
Articles related to your search: