Basketball for kids in New South Wales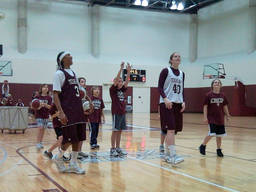 Category:Sports
Approximate age to start basketball:5-12 years old
Approximate price:Free
Gear/equipment needed and approximate price range: Basketball rims,basketball nets,basketballs,basketball hoops,basketball shoes,basketball apparel; $30-$250 from ball to full setup
This activity comprises of:Training,practice,camps,clinics,drills,workouts
Best period of the year:Any time of the year
Most appropriate region:Anywhere in Australia
School holiday programs available: YES
A video of Basketball for kids in New South Wales
Lively recap of Waubonsie Valley VS Valley Boys Basketball Game, NSW
Information on Basketball in New South Wales
Why is New South Wales a great place for basketball?
Basketball is a sport that everyone can get into- from toddlers to professionals in the NBA. Children can play the sport casually since a basketball net or a basketball goal and a ball will work just fine. If you wish to improve your toddler's skills, you can enrol them in basketball classes and lessons in NSW where professionals can help them master the sport. Participating in basketball games allows kids to have fun, at the same time developing their self-discipline and keeping them in shape.
Basketball in NSW will focus on the following:
Physical Fitness - being a member of the basketball NSW Youth League guarantees frequent physical activity for your kids.
Improved Motor Skills- participating in junior basketball competitions will hone flexibility, hand-eye coordination and endurance.
Psychological Development- taking part in team sports improves communication skills and encourages an interest in healthy competition.
Get your kids started on basketball in NSW!
Younger children, typically those aged 5-12, can take part in mini-basketball. Being a game that focuses on skill rather than strength, mini-basketball allows boys and girls to play on the same teams. With variations on the typical basketball rules, mini-basketball follows simplified rules and uses a smaller ball and lower basketball equipment.
Junior Basketball in NSW also gives players aged 13- 20 a chance to play and compete among young basketballers.
People from different backgrounds can participate in basketball in NSW. There are also basketball teams in New South Wales that caters to wheelchair users. Playing wheelchair basketball builds the same skills in participants: teamwork, strength and coordination.
Through kids basketball, some coaches can help children develop their overall skills using the Game Sense method. The Game Sense method aims to place the participant in situations where decision-making and problem-solving are key to their successful performance. The Aussie Hoops program utilized the Game Sense method.
Taking part in the Aussie Hoops program helps kids:
Have Fun;
Learn New Basketball Skills;
Meet new friends while spending time with old friends; and
Staying active while being safe.
The Aussie Hoops program is flexible- it can be run at a school or a stadium. Sessions can take place during school time or after school hours. Aussie Hoops sessions held in stadiums can be held after school on weekdays, or on weekend mornings. Coaches will help facilitate basketball drills for kids, along with teaching them about basketball free throws, basketball fouls, the basketball foul of the half, basketball dribbling, and of course- how to shoot a basketball.
Another organization that can guide people interested in kids basketball is Basketball NSW (Basketball New South Wales). Basketball NSW will help members choose the right basketball equipment and the right basketball team for their age. Coaches from Basketball NSW follow specific guidelines, such as playing on NSW basketball courts that are regulation-specific.
For more tips on Basketball in Australia, as well as other kids activities that your toddlers will enjoy, visit our ActiveActivities directory. The ActiveActivities directory contains a variety of activities for kids that are both fun and educational!
Enrol your kids in basketball camps in NSW for a sport that ensures both sportsmanship and a great time!
Articles related to your search: