Little Athletics in Melbourne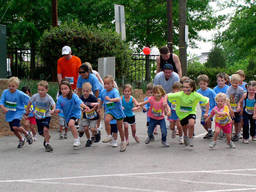 Little Athletics originated in Australia back in 1964. Its mission is to promote positive attitudes and a healthy lifestyle for children, with the motto "Family, Fun, Fitness." Melbourne is home to many little athletics clubs that are dedicated to providing a fun and nurturing environment for kids and families. The city is also home to premier little athletics venues like the Lakeside Stadium in Albert Park. Find a little athletics centre near you and join today!
Category:Sports
Approximate age to start Little Athletics:5
Approximate price: $50-$100 for 12 months
Gear/equipment needed and approximate price range: Competition T-Shirt ($35), Uniform ($15), Rubber Shoes ($20-$60)
This activity comprises of:Running, Jumping, Javelin Throwing, Pole Vaulting, Relays
Best period of the year: October to the following September
Most appropriate region: Lakeside Stadium, Olympic Park Stadium, little athletics centres
School holiday programs available: YES
A video of Little Athletics in Melbourne
Watch this video of young boys running on a track with hurdles. This is a popular little athletics event.
Information on Little Athletics in Melbourne
Why is Melbourne a great venue for little athletics for kids?
Little athletics is one of the kids activities that promote a healthy and fun lifestyle. It develops your kids' motor skills and it also fosters camaraderie among children.
To get your kids pumped up for little athletics, you can bring them to watch athletics competitions. Athletics events are popular in Melbourne, since the city is home to the Olympic Park Stadium, a world-class athletics venue. In 2006, Melbourne hosted the athletics events for the Commonwealth Games. Melbourne also hosted the IAAF World Challenge in 2012, the 4th meet of the Australian Athletics Tour. By watching events like these, your kids will surely be inspired to join little athletics in Melbourne.
Little Athletics Victoria is the governing body for little athletics activities in the state. The organisation oversees annual competitions for little athletics in Victoria and it also holds regular sports clinics. If you're a competitor living in Melbourne, then you're in luck! State relay championships are held in Lakeside Stadium, Albert Park, Melbourne. This will make it easier for your kids to do little athletics activities in the area.
Another competition that's held in Melbourne is the South Melbourne District Little Athletics (SMDLA) tournament, as well as the State Multi-Event Championships. With so many little athletics events in the area, your kids will have many opportunities to participate in this fun and exciting activity!
Little Athletics Victoria has also released coaching DVDs called Coaching Young Athletes, a series of videos that aim to provide better coaching for kids in Melbourne and other cities in Victoria. This project can also help coaches to teach kids to improve their skills the various events of little athletics, including sprints, hurdles, long jump, discus and the 800m dash.
There are Little Athletics School Holiday Activities (like Little Athletics Camps) that are held specifically in Melbourne, like the JDS Program. This coaching camp is conducted by Victoria's most competent coaches and is suitable for kids who are serious with improving their technical competency in the sport. It is open for kids 12-16 years old, and children must pass JDS qualifying standards to be eligible to join the camp. It is held from October to August the following year.
To qualify for the JDS Program, an athlete must qualify in 1 event twice at separate meets or 2 separate events once to be eligible, unless he or she finishes in the top 8 at either the state multi-event or the cross country championships. If ever your child passes the qualifying standards, you can register online by logging into the Little Athletics Victoria website.
Get your kids to start joining little athletics activities in Melbourne!
Children from age 5 can begin joining little athletics activities for kids. Toddlers are normally encouraged to wait until they are older before they can begin. The rules of children's athletics are modified to be more suitable for the abilities of children, so you're assured that your kids will be able to keep up with the sport.
There are many little athletics clubs in Melbourne. Each club regularly holds its training camps in particular little athletic centres. Choose the most appropriate athletic centre for you by considering travel distance and time. Centres are usually located near the vicinity of schools, making little athletics a great choice for an after school activity. Visit the ActiveActivities directory for more information on little athletics clubs and the corresponding centres where they hold their training sessions.
Join little athletics activities in Melbourne today!
Articles related to your search: