little Athletics in Brisbane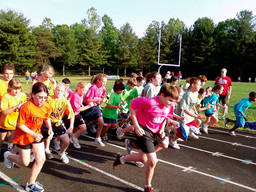 "Family, Fun, and Fitness," that is the motto of little athletics, an Australian sport for children aged 5 to 15 years. The purpose of little athletics is to introduce toddlers to sports through modified athletics events, and to encourage families to get involved in fun and healthy activities. The first little athletics event was held in 1964. Now there are little athletics associations in every state and territory in Australia, including Brisbane. Need to get your children involved with worthwhile activities for kids? Let them be one of the 95,000 kids who are into little athletics!
A video of little Athletics in Brisbane
Watch this video on the Queensland Little Athletics Final and let your kids tap their own competitive spirit!
Information on Little athletics in Brisbane
Why is Brisbane a great place for little athletics activities for your kids?
Sports plays an important role in Brisbane?s lifestyle. Health and fitness for kids are attained through sports. The most popular sports for kids in Brisbane include rugby league, cricket, soccer, AFL, rugby union, and martial arts. But for toddlers, little athletics is encouraged as it helps develop their gross motor skills through running, jumping, throwing, and walking ? based on track and field athletics. It has the same events as senior athletics, only modified to suit the children?s age and skills. Little athletics can also encourage kids to have an active and healthy lifestyle. It also serves as an introductory sport for your toddlers because it teaches basic sports skills. Aside from physical benefits, little athletics also help develop the following skills:
Mental fitness
Being physically active doesn?t only help kids have a healthy body, but also a healthy mind. Exercises such as little athletics are also a good stress reliever.
Discipline and determination
Having something that kids need to practise regularly can make them become more disciplined and responsible. Determination is also needed for them to perfect a skill and succeed.
Confidence and Socialisation
Little athletics clubs is a fun and friendly environment where your kids can learn social etiquettes. Joining competitions will also teach them teamwork, sportsmanship, and fair play. A chance to represent their community in competitions will also help them develop self- confidence.
Kids activities and events in little athletics in Brisbane as well as in other states and territories are different according to age groups. The little athletics events offered are:
Sprints (U13, 14, 15, 16)
Distance
Relays
Throws (U11, 12, 13,14,15,16)
Jumps
Multi-Event, Discus, and Long Jump
Cross-Country
Race for 3 and 4-year olds
Little athletics in Brisbane is covered by Queensland Little Athletics. The association aims to guarantee all kids to get to participate in training and competition opportunities. Queensland Little Athletics also provides rewards and incentives, coaching, officiating, and administration. Queensland Little Athletics is also part of a larger body, the Australian Little Athletics.
Little athletics was brought to Brisbane by Alan Triscott in 1973. Starting with Brisbane, there are now 105 little athletics centres in Queensland where little athletes participate in weekly competitions. As the motto ?Family, Fun, and Fitness" goes, not only kids can get to participate in little athletics. Parents can also join by becoming coaches, officials, administrators, or members of the committee.
Little athletics centres are often found in gyms and sports centres in Brisbane. Visit our ActiveActivities Directory to find the nearest little athletics centre in your neighbourhood. If your kids are under 5, our Directory also suggests some activities that can offer the same benefits as little athletics. There are also some athletics clubs around Brisbane that cater to younger kids.
Little athletics in Brisbane runs all year round, starting in October. If your kids are 5 to 15 years old, register them now!
Articles related to your search: